"Disturbing the Peace"
Dorian
Perez
#3 Heavyweight
5 - 1 (W-L)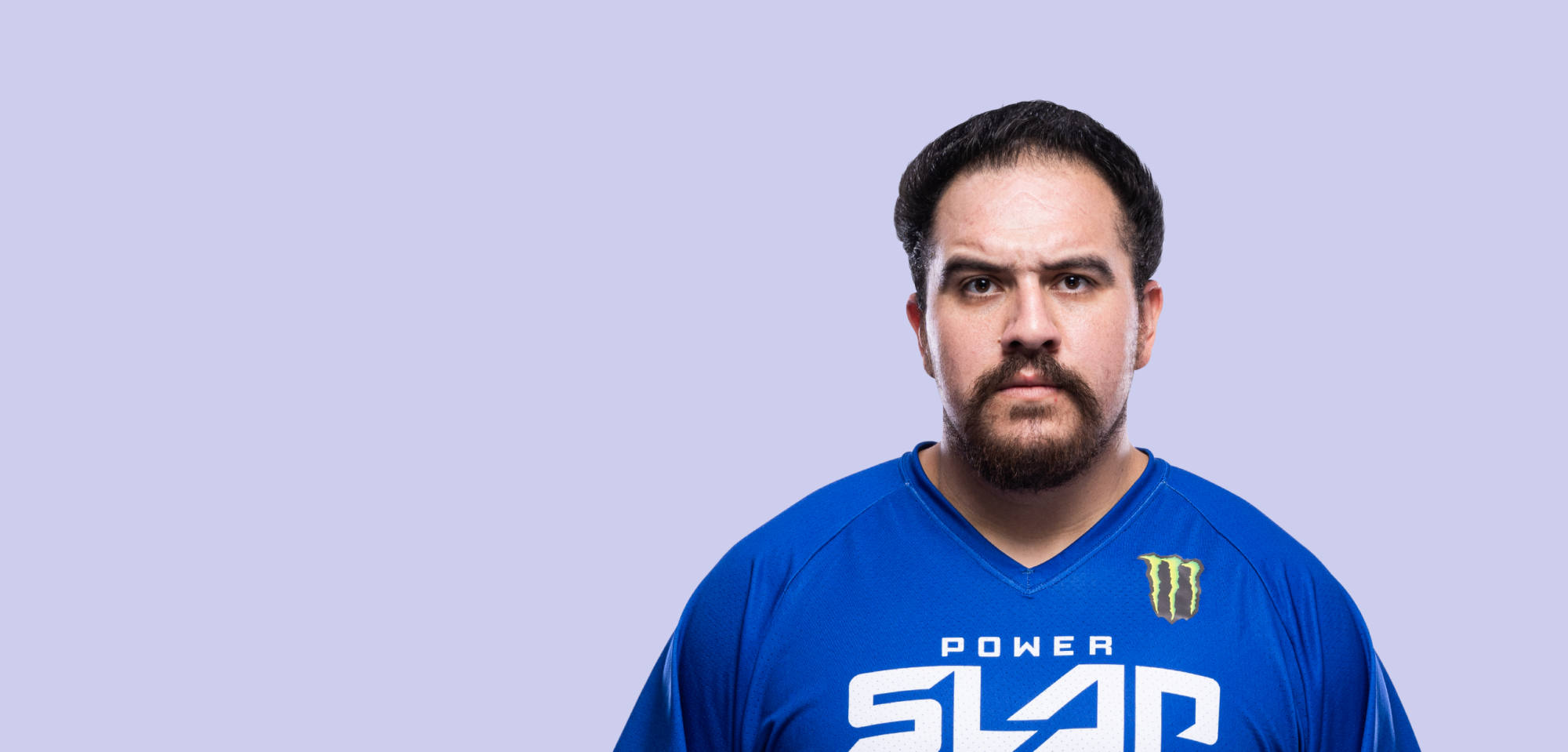 Biography

Fighting out of
San Ysidro, CA
Average neck force
321.8 N
"I fight to honor my father's legacy"
When and why did you start training to be a Slap Fighter?
A year ago I had my debut boxing match in SBWC with a gentleman who is a very obvious user of "Mexican Supplements." The fight got half a million views. I withstood all his attacks and turned the fight around for a win with a late round one KO. The producers of the show saw that video and came looking for me. I went to the qualifier event with zero slap training and a broken nose, but I learned very fast and still won both my slap fights. Now a year later I'm still knocking dudes out every month in Streetbeefs Westcoast and I'm in the gym every day, working my power and speed.
What does fighting in Power Slap mean for you and your career?
Fighting in Power Slap means the world to me because I can show my little brother by example how raw and tough you need to be to get through this life. It's a mean and nasty world that will beat us down again and again and again. I'm trying to show him that no matter how hard I get hit or how much fear is in my heart, I won't quit. We need to keep coming back for more and conquer our fears, conquer our pain. Bravery without fear is stupidity, bravery in the face of fear is courage.
What are your ultimate goals in fighting?
The goal is always to be the best. Whether I'm boxing, slapping, or doing a one-legged ass kicking contest, I bring my doggedness and relentless pursuit of greatness with me into every battle. It's how I can beat stronger and more experienced opponents; you just have to be tougher than them.
What was your biggest takeaway from your time in the Power Slap house?
I was invited, however, I wasn't able to compete in the house due to a broken rib I sustained in a car accident leading up to filming of the show.
What's the worst thing you've ever done?
I couldn't convince my Dad to stay for breakfast the day that he passed away. He was on his way to Texas, but I could feel there was something wrong. I begged him to stay but he just kept saying "I need to go mijo." I swear if he had just ate with me and talked to me he'd still be here, but I just let him go and it's one of my deepest regrets. I will avenge you Pops.
What's the best thing you've ever done?
When I was 17 years old, me and my Dad found out my oldest sister was getting beat up by her husband, so naturally we immediately hopped into the car and drove 25 hours straight to go whoop his ass. That was one of the most fun trips we ever had. And I say it's the best thing I ever done because he never laid another finger on my sister or my nieces. That's the problem with people today. They do things thinking there will be no consequences, because, more often than not, they are right. Until you run into a real MF like me that won't just let it slide. All that family armed to the teeth in Texas, and it took the pocho from California to go handle business.
Is there anyone you'd like to slap fight against?
Ryan Phillips is one of my absolute best friends and a warrior plucked out of another time. That's a matchup that's inevitable and gets me super excited. Whenever that happens, the fans are going to go bonkers
Occupation/past occupation(s):
I do security at the USA/Mexico border. And when my little brother gets old enough, I'm going to reopen Jo's Texas brisket with him, the smoked BBQ company I ran with my Dad for nine years.