Power Slap: Road to the Title Episode 5 Recap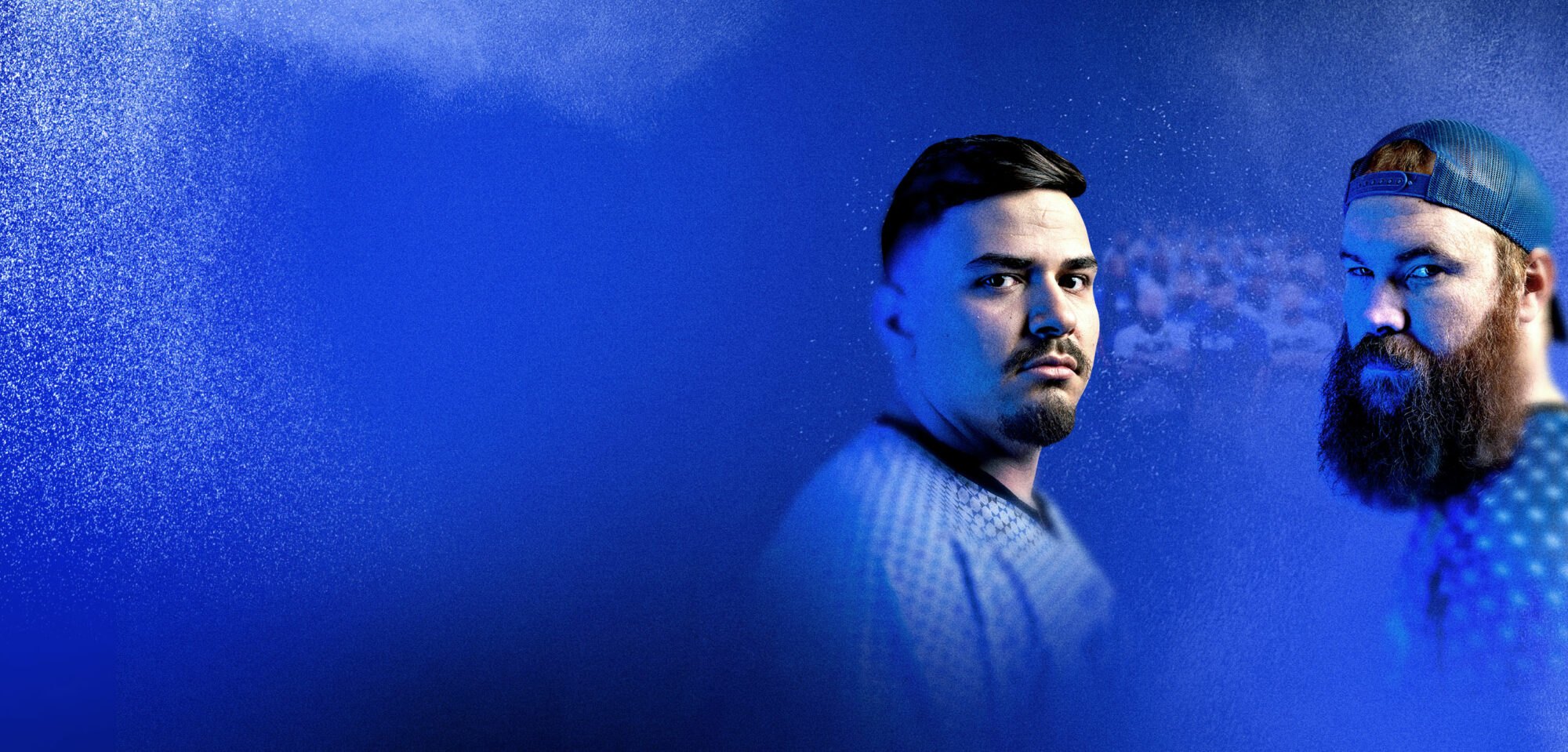 A full house brawl! A heavyweight battle! A shocking injury! Episode 5 is packed with huge moments! Let's get to it …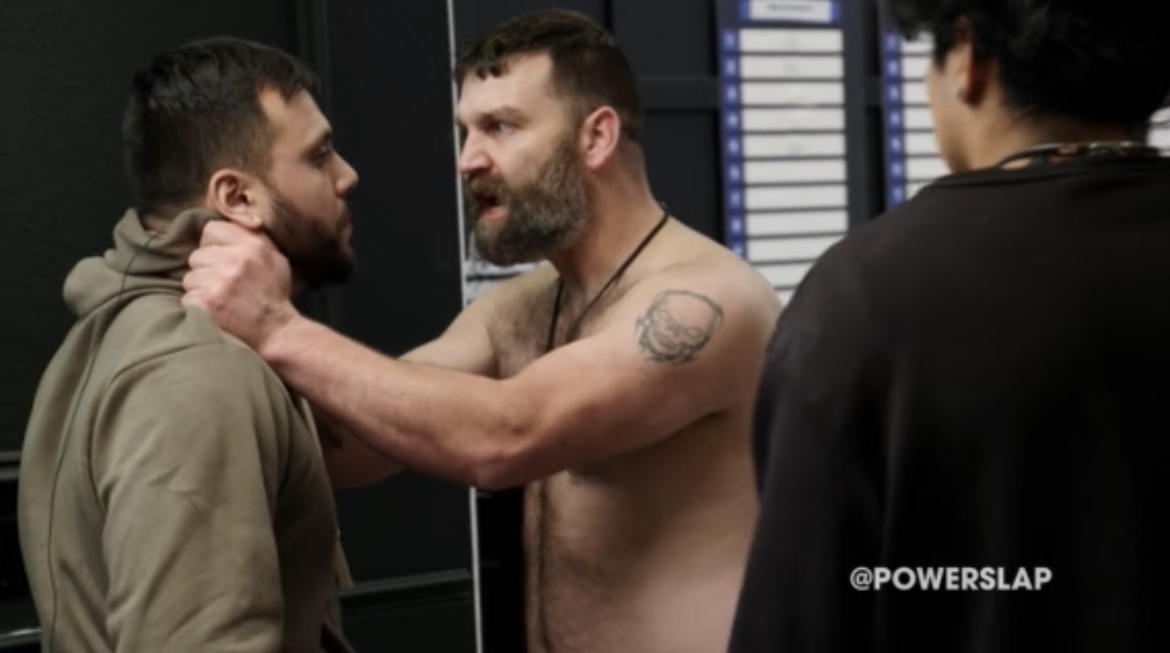 Azael Vs …. EVERYONE
The episode starts off with Azael Rodriguez boozed up and ready to fight everyone in the house.
First, he tries to throw hands with Carrese Archer — but Jesus Gaspar steps in quickly and restrains Azael.
But moments later, he gets into it with Devon Schwan — a clash that results in Azael taking a chair to the face!
The situation was so intense, producers stepped in and removed Azael from the house — putting him a hotel for the night so he could sleep it off before things got worse.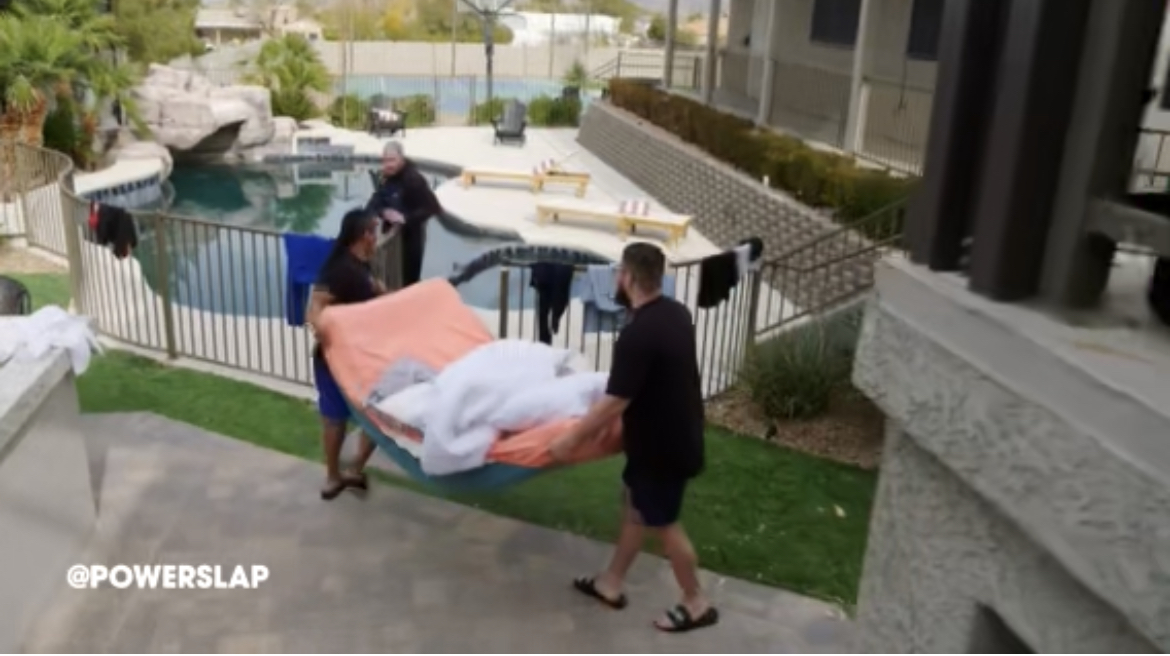 The House Gets Revenge
With Azael at the hotel, the rest of the strikers decided to retaliate against the middleweight but taking his mattress and moving it outside by the pool. They also threw some of Aza's belongings in the water.
When he returns, Azael will face the hard-hitting Emanuel Muniz —and everyone in the house is rooting hard for Manny to light him up and send him home.
In the meantime, we get some backstory on Muniz. He's a former high school football star who's now fully immersed in combat sports, focusing on boxing, kick-boxing and jiu jitsu. He's taken several underground sports but hopes to find longterm success with Power Slap.
Azael Returns, Beefs with AyJay
A sobered up Azael returns to the house, but he's still looking for a fight — especially after finding his mattress by the pool.
But there's a new wrinkle in the house. While Aza was in the penalty box, Dana White invited Anthony Green to move in and join the competition.
When Azael got back to the house, he took the mattress meant for Anthony and refused to budge. That's when AyJay Hintz stepped in and gave Rodriguez an ultimatum — give up the bed or fight. Azael, for once, chooses to back down and focuses on his upcoming match.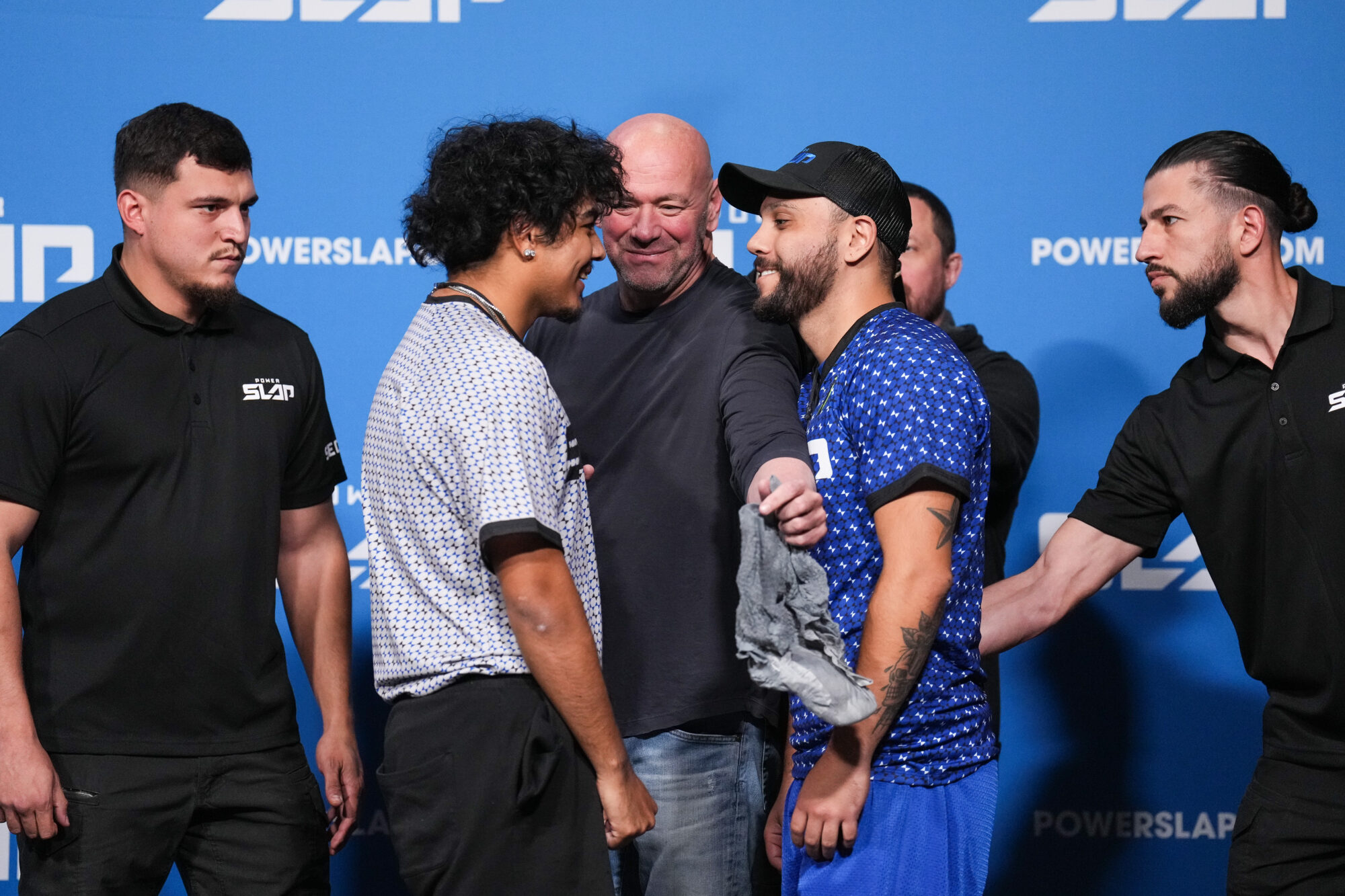 Emanuel Muniz vs. Azael Rodriguez
Finally, Azael gets a chance to channel his rage in the appropriate venue — at the Power Slap table!
Emanuel wins the coins toss and gets to slap first — a huge advantage considering he KO'd his last opponent with his opening strike. Azael doesn't seem too concerned.
But no 1st round KO for Muniz here. Instead, the #5 ranked middleweight is called for clubbing. Rodriguez responds with a clean shot.
The next two rounds feature both strikers exchanging powerful clean shots — a battle of heart and strength. Neither man gets the finish, but an incredible match!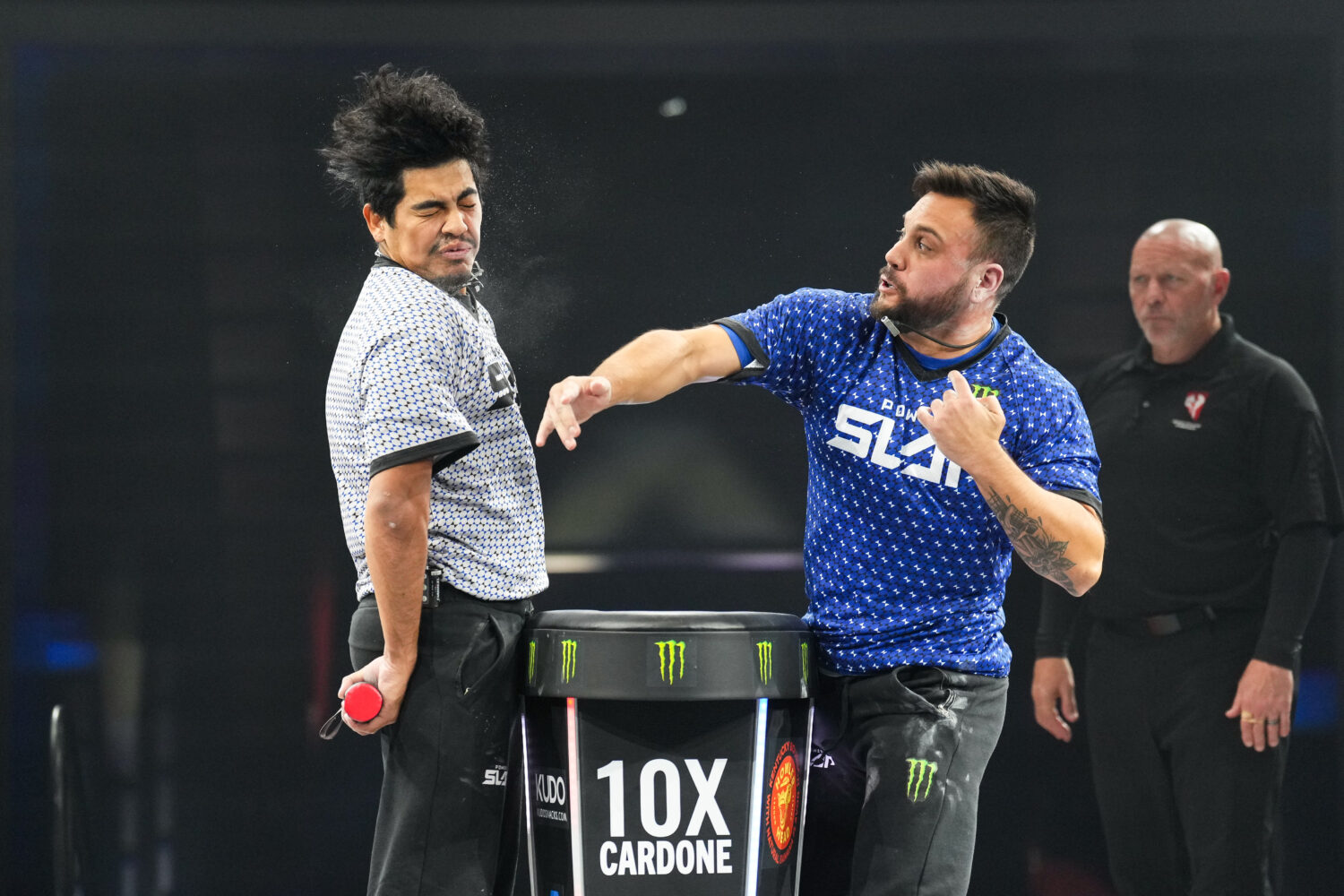 In the end, Emanuel's 1st round foul plays a huge role when the fight goes to the scoreboards — and Rodriguez gets the unanimous decision.
"Today just proved it. I'm a top dog," Azael said … "I'm here to win this."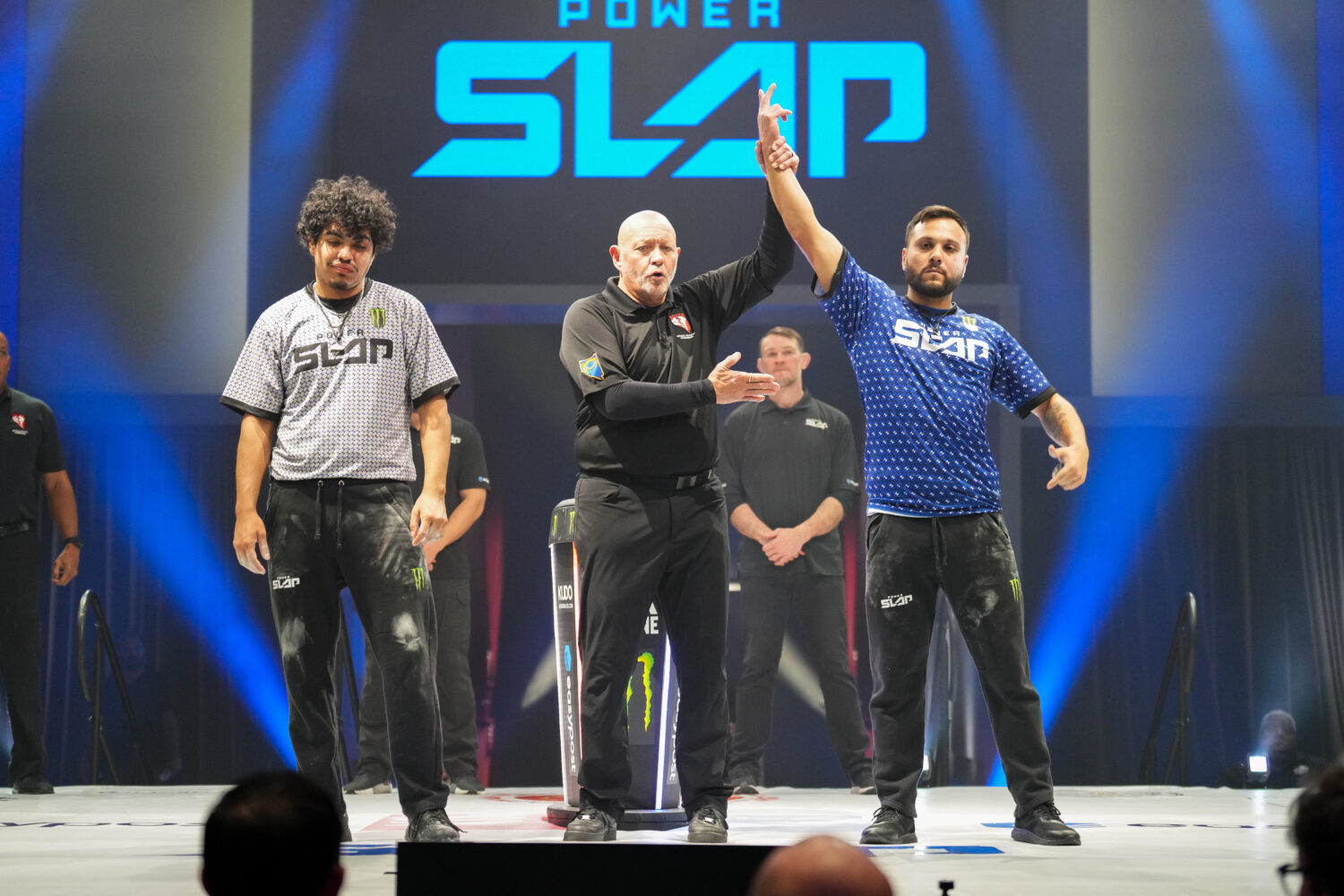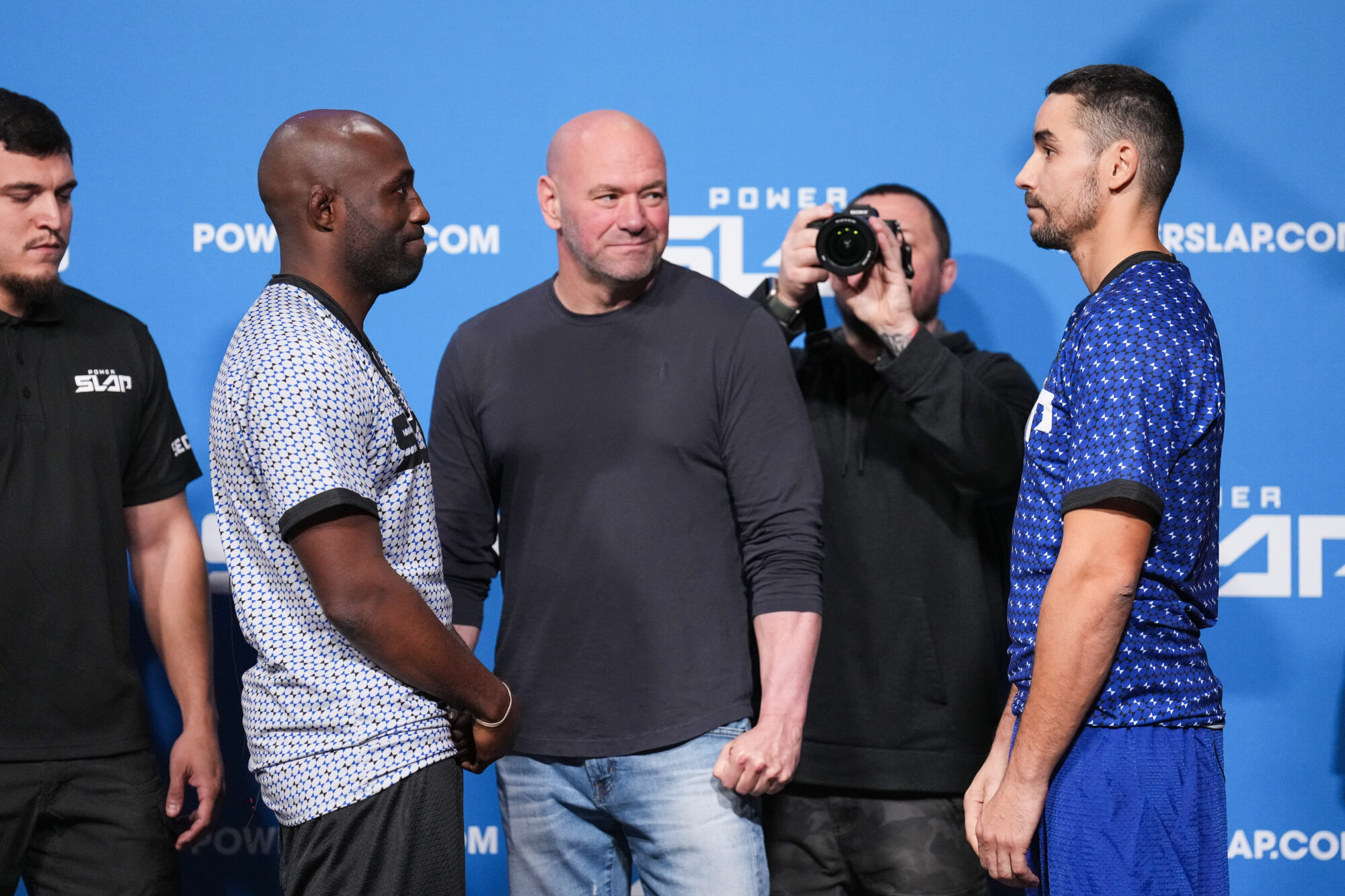 Nicolae Solcoci vs. Carrese Archer
Nicolae Solcoci is coming off a 1-slap knockout where he established himself as one of the most dangerous strikers in the game. His opponent Carrese Archer believes he's got one of the best chins in the sport and can't wait to put it to the test.
Solcoci is the #3 ranked middleweight. Archer, who entered the house as an alternate, is ranked #8.
With Solcoci scoring higher than Archer on the key metrics at the Power Slap combine (human force, peak velocity and neck force) Archer is a huge underdog.
Round 1
Solcoci wins the coin toss and elects to strike first. Lands a big shot. Archer eats it — but Solcoci is called for clubbing. Archer responds with a clean slap.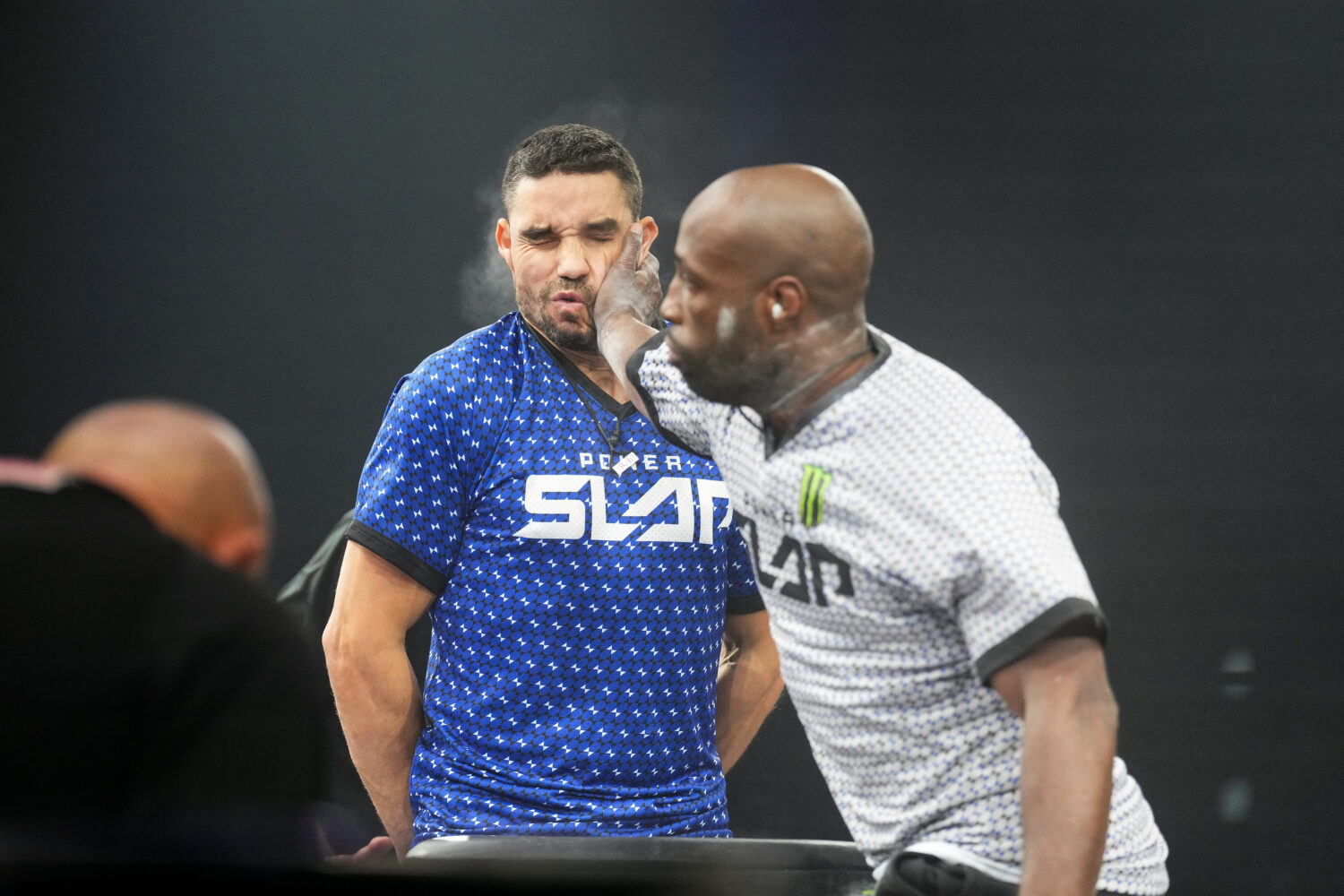 Round 2
Solcoci commits another bad clubbing foul. One more foul and he'll be DQ'd.
Archer decides to switch things up and throws with his left hand. The shot connects but he's called for a foul — stepping.
Round 3
Solcoci seemingly needs a KO to win — but instead commits a 3rd clubbing foul and is officially disqualified. Archer is declared the winner. Huge upset victory!
"That will definitely shake up the rankings," White said after the match.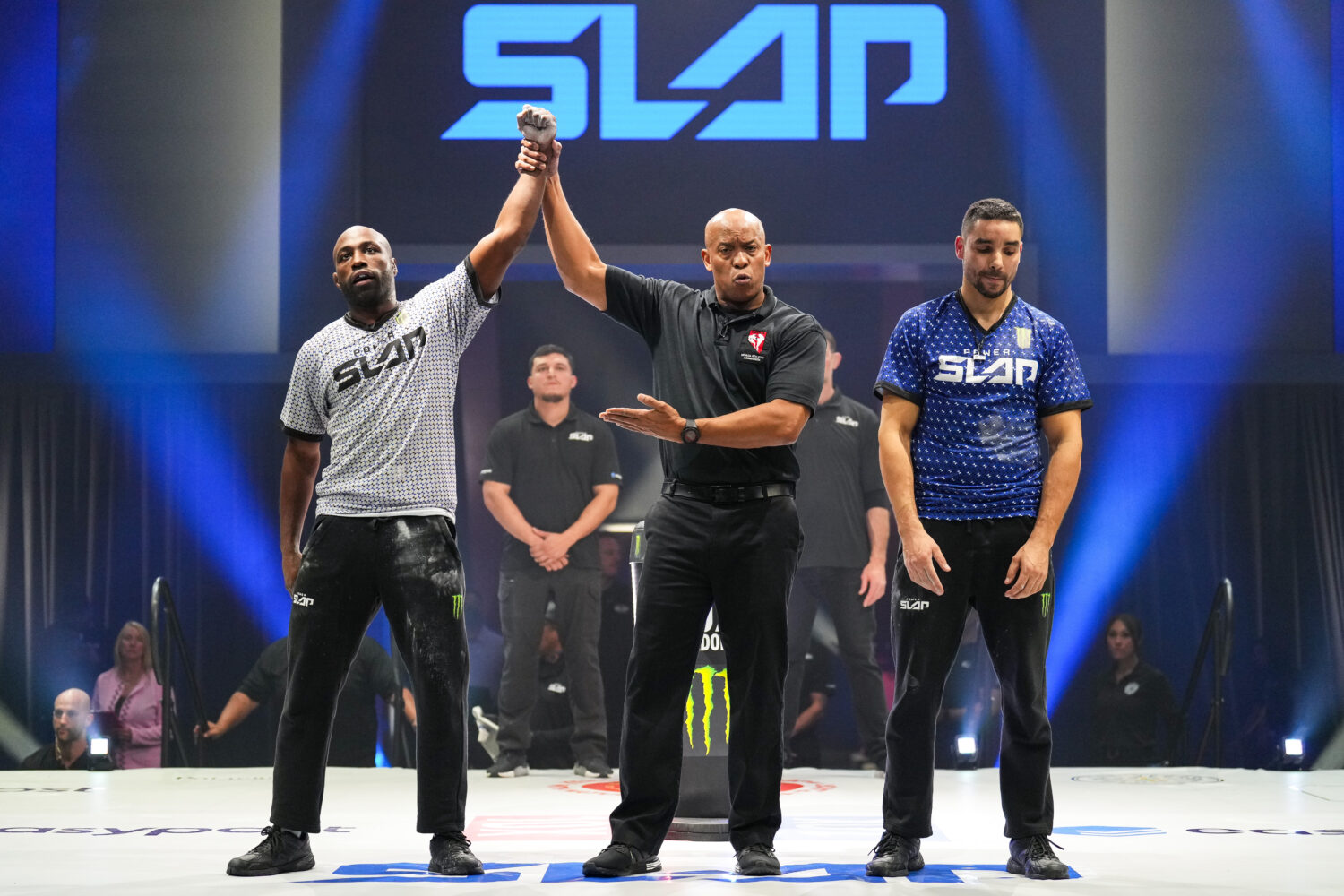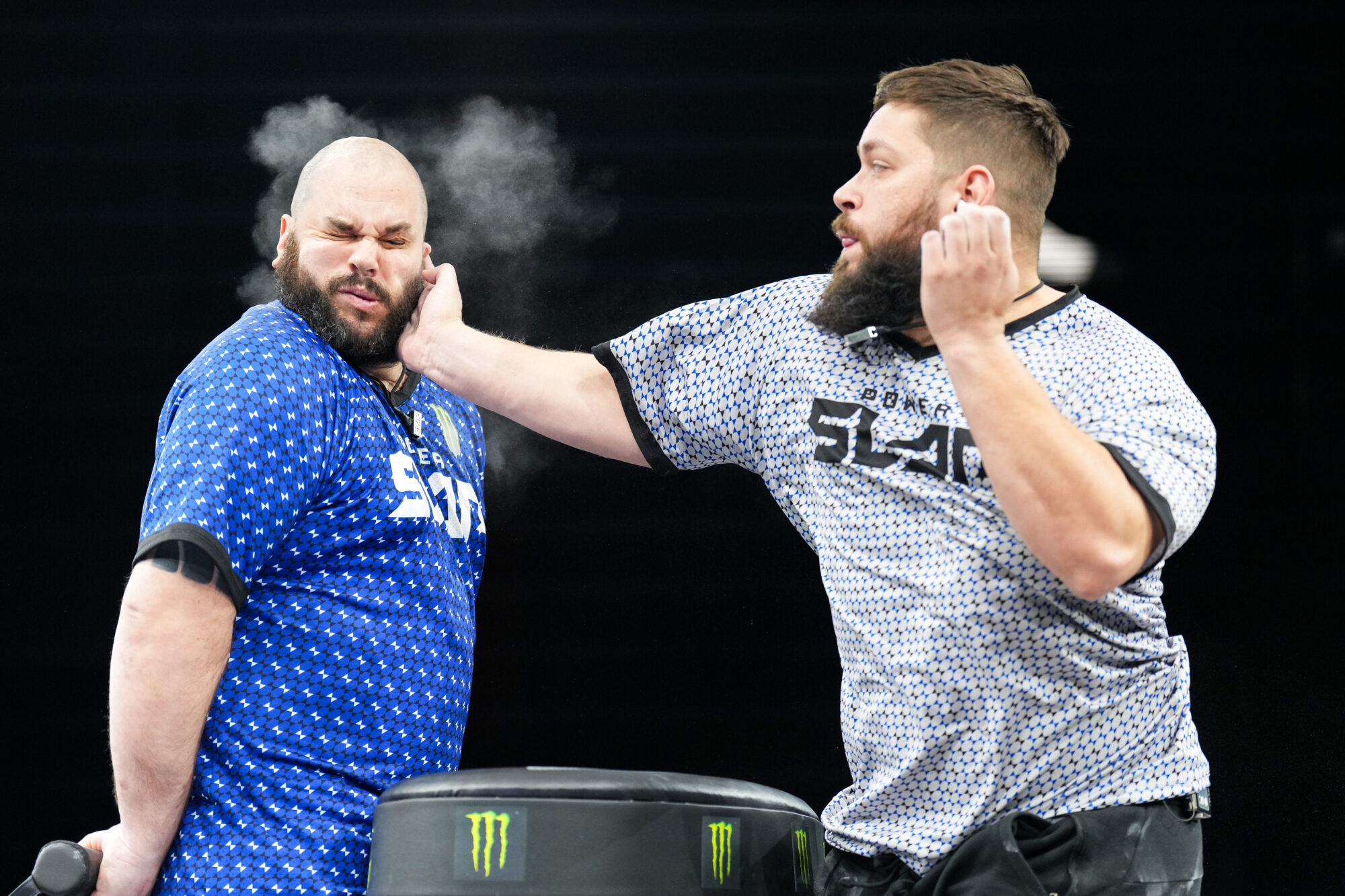 Ryan Phillips vs. Duane Crespo
One of the most anticipated matchups in the heavyweight division — #4 ranked Ryan Phillips vs. #5 ranked Duane Crespo!!
Crespo flattened his last opponent with a crushing 1-shot knockout of Matthew "Stretch" Strickland. Phillips is coming off a 3-round war with Rob "One-Eyed Wolf" Perez that Dana White hailed as an instant classic.
But as Phillips was preparing for the matchup, he felt a pop in his right arm (his striking arm). He was ultimately diagnosed with a complete tear of his bicep tendon.
Despite the crippling injury, Phillips refuses to pull out of the match and decides he will strike with his left arm.
"Chop my arm off, put me in the ring man," Phillips said … "I'm about to come with the thunder. My left is still strong."
Round 1
Crespo wins the coin toss and elects to strike first. He opens with a powerful right hand but Phillips eats it!
Phillips returns fire with his left hand but is called for a clubbing shot. It's clear he doesn't have the same accuracy with his left.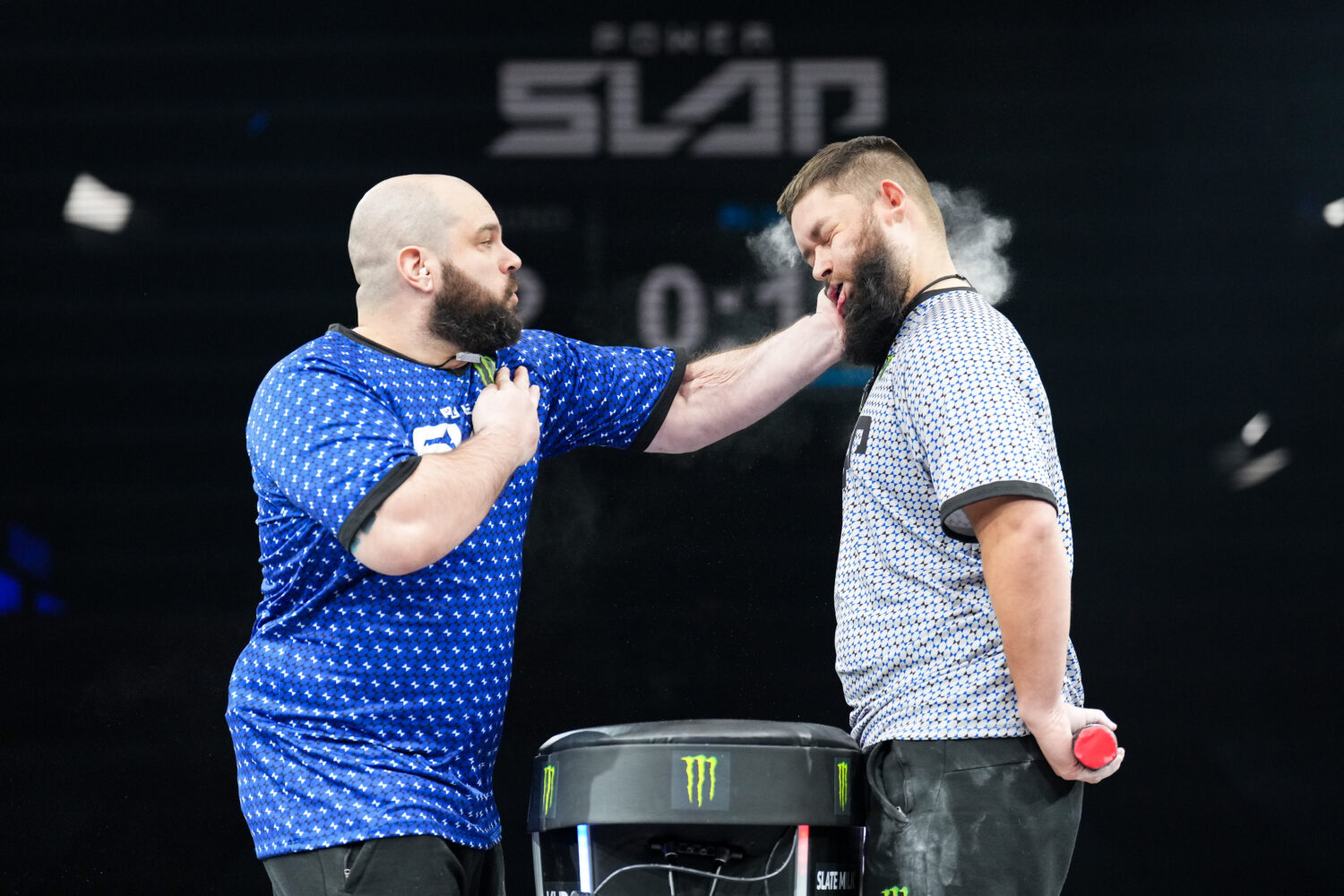 Round 2
Crespo kicks off Round 2 with another huge right. Once again, Phillips eats it.
Phillips hits back with a clean left but fails to crumble Crespo.
Round 3
Crespo's 3rd strike is his best — unloading a monster right on Ryan's bruised face. Once again, Ryan eats it — impressing Dana White and the rest of the Power Slap team.
Phillips digs deep to try and finish Crespo with his final slap, but can't get the job done.
Crespo wins by unanimous decision but Phillips earns everyone;'s respect for his gritty performance.
"Congratulations to Duane on a great win but I'm going to come back and I'm going to get it back," Phillips said.
After the match, Dana praised both strikers — "I see both of these guys having a bright future in Power Slap."
The action continues next week with 3 more explosive matchups!!
Catch an all new episode of Power Slap: Road to the Title every Wednesday on TBS at 10pm et/pt.