Power Slap: Road to the Title Episode 3 Recap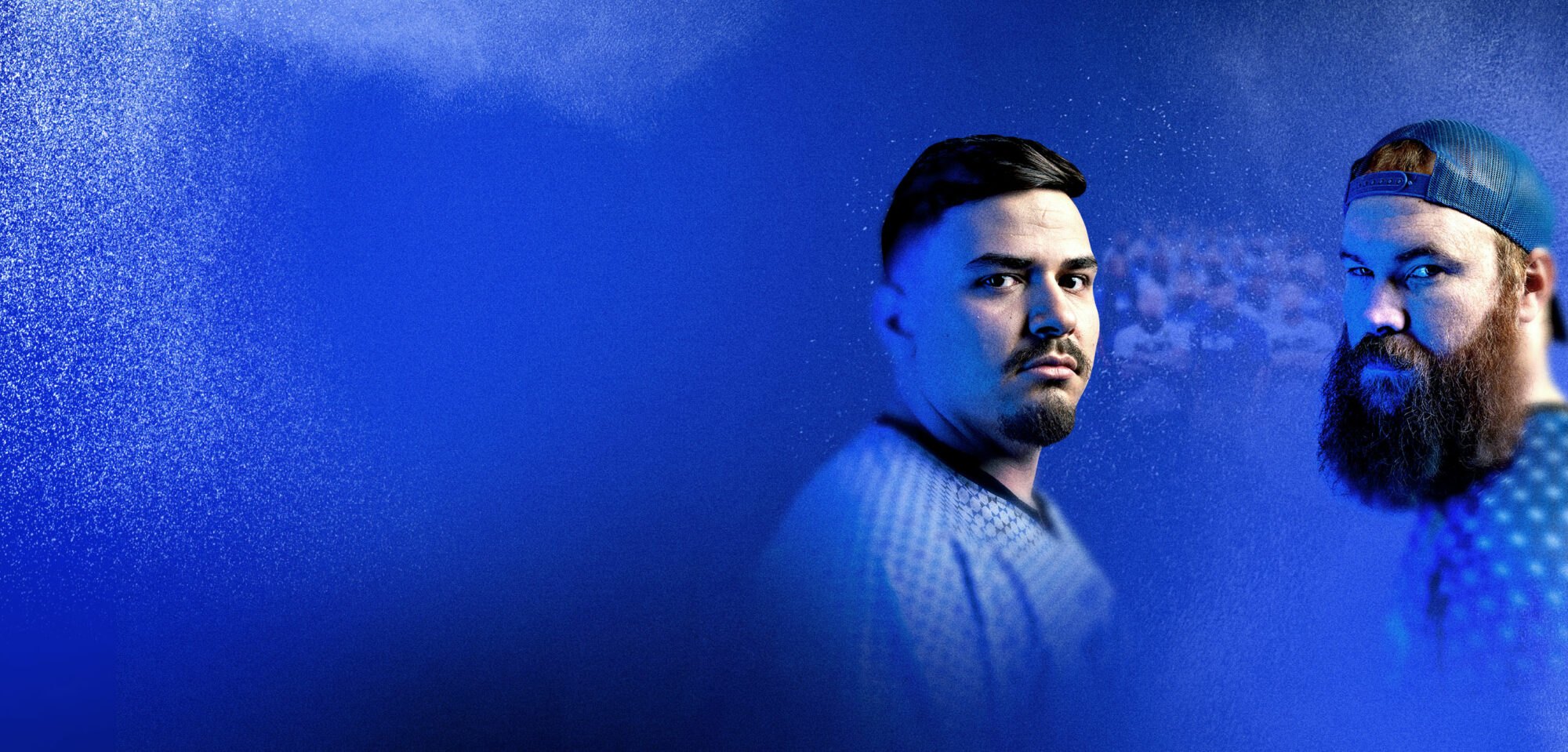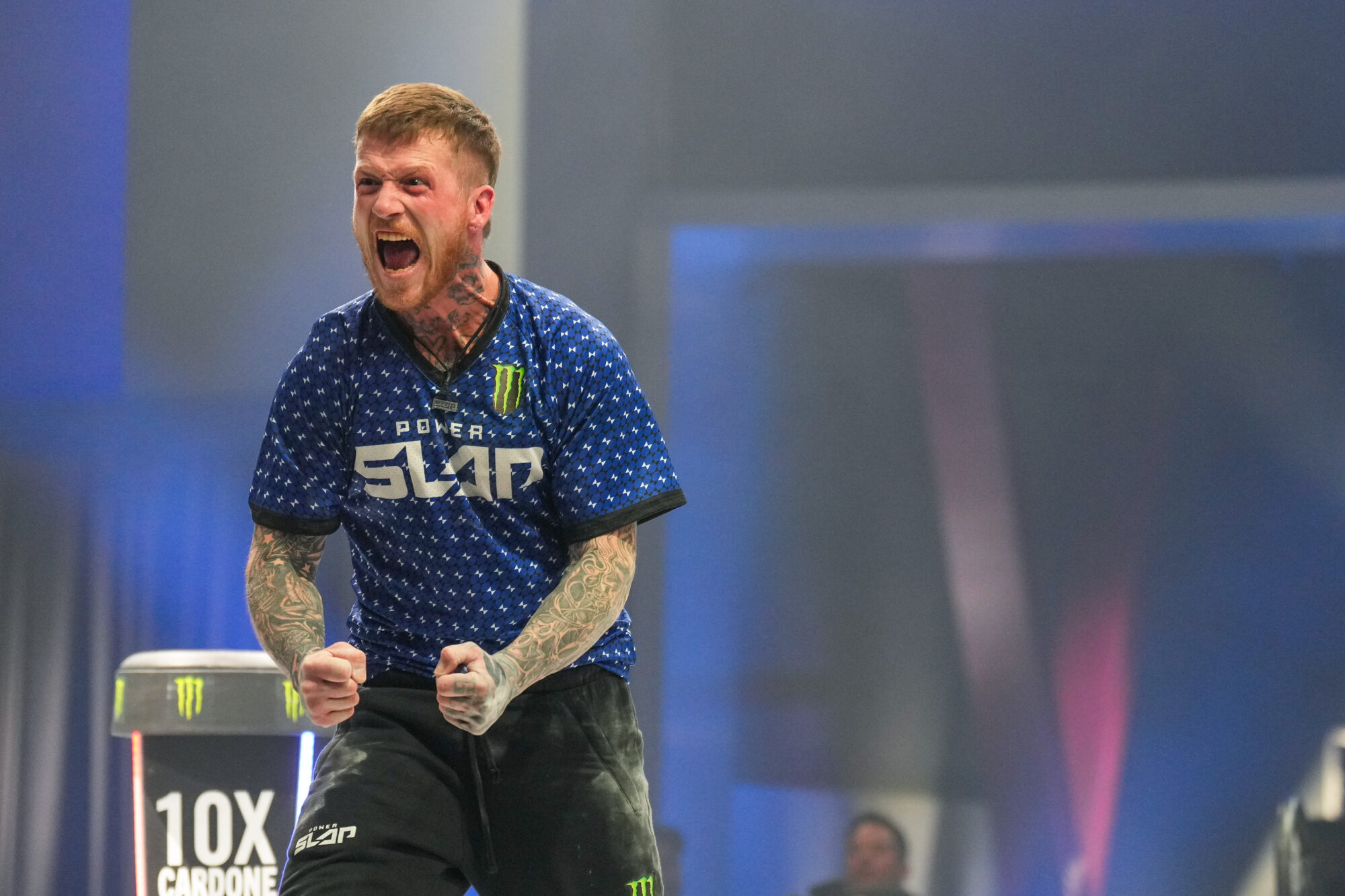 The top 22 strikers have moved in to the Power Slap house and now the next phase begins — the battle for world rankings and a shot at the Power Slap title! 
During the stay at the house, the strikers will train for 2 matches each. After everyone in the house has competed, the results will determine the official Power Slap world rankings.  
In the meantime, Dana White and his team have assigned "initial rankings" to the strikers based on past performances. 
INITIAL RANKINGS
Heavyweight Rankings
Darius the Destroyer
Wolverine
The Bell
Ryan Phillips
Duane Crespo
Mitchell Sipe
Light Heavyweight
Vernon Cathey
AyJay Hintz
Russel Rivero
Devon Schwan
Middleweight
Wesley Drain
John Davis
Nicolae Solcoci
Jon Kennedy
Emanuel Muniz
Azael Rodriguez
Jesse Nutting
Carrese Archer
Welterweight
Christapher Thomas
Michael Smith
Jewel Scott
Waylon Frost
Robert Trujillo
Andrew Provost
Jesus Gaspar
Now to the matches!

Jesus Gaspar vs. Michael "Slap Jesus" Smith
Our first match of the show features a welterweight clash between Michael "Slap Jesus" Smith vs. Jesus Gaspar … which means we'll get to see Slap Jesus slap Jesus!
Before the action begins, we get to learn about the strikers with video packages featuring their home lives.
Michael Smith is from Lake Tahoe, CA and loves being a dad. He also reveals how he stopped drinking alcohol over a year ago because sobriety helps him become the best version of himself.
Jesus Gaspar takes us to his home in Montclair, CA, an area he describes as a pretty rough place to grow up.
Gaspar is very close with his mother Carmen and wants to be successful so he can give her a better life.
It's also clear both strikers have respect for each other and are excited about the match.
Gaspar wins the coin toss and elects to strike first. Round 1 opens with a strong shot, but Smith eats it.  Smith returns fire with a quick blast — but Gaspar is called for a flinching foul, which means Smith is allowed to re-strike.  Gaspar is rocked but stays on his feet.
In Round 2, Gaspar opens with a HUGE shot that sends blood running from Smith's nose. Smith recovers and responds with a good slap, but once again Gaspar is called for flinching.  Smith gets to re-strike.
No fouls in Round 3. Both strikers traded solid shots, putting the results in the hands of the judges. Mike Smith wins by split decision.

Power Slap Training with the Coaches
Darius the Destroyer — widely considered one of the best strikers on the planet — brought his team to the UFC Performance Institute to lead a series of workouts focusing on improving slap technique.  His asst. coach Sheena Bathory is also sharing her extensive slap knowledge with the athletes.
Coach Wolverine also led a training session with his asst. coach Damien Dibell — aka "The Bell" — who has earned a reputation for being one of the most powerful heavyweight strikers in the slap game.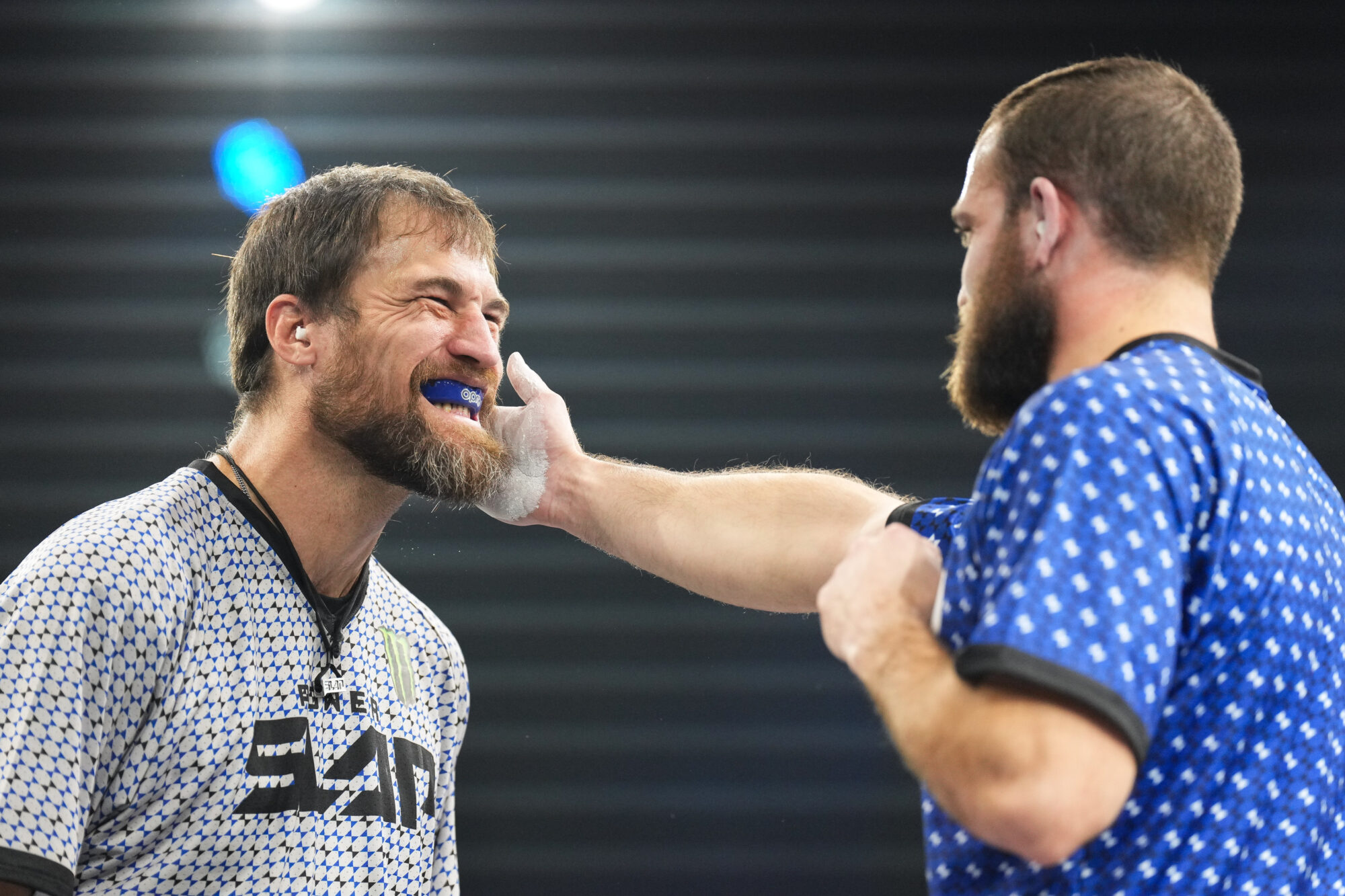 John Davis vs. Jon Kennedy
Next match is John vs. Jon — two middleweight strikers who are deeply motivated by their families.
John Davis reveals he was in the Marines Corps for a bit but suffered a bad shoulder injury and received an honorable medical discharge.  Davis gets emotional when talking about how the injury affected his life plans but says the experience taught him how to soldier through tough times.
Now, Davis says he's gunning to be the a Power Slap champion so he can inspire his own children to chase their dreams.
"I wanted to show them whether you win, lose or try you've got to try."
Jon Kennedy also opens up about his family — saying he has 4 children including a 2-year-old son and insists he's trying to do right by them.
"I feel like it's going to be an exciting fight because we're both fighting for our kids," Kennedy says about his opponent … "I give it up to him, but my family comes before his."
John Davis wins the coin toss and elects to strike first.
Davis opens Round 1 with a BIG shot — but Kennedy is unmoved. Eats it like a champ!
Kennedy responds with a solid shot but Davis stands firm.
Davis stars Round 2 with a MONSTER shot that sends Kennedy falling back to the ground, but he's called for a clubbing foul. Kennedy recovers and fires back with a solid shot that sends Davis stumbling backwards.
After a brief recovery, Davis ends the fight in Round 3 with a huge knockout shot!
Kennedy tried two recover but the ref stopped the match after determining Kennedy wasn't fit to continue. Davis wins by TKO.
"John Davis knew he was down a point. That last round came and he had a clean hit, knocked him down, "Wolverine explained.
"This was a hard fought battle," Dana White said … "I think it was a good stoppage. [Kennedy] didn't look like he would have been able to continue."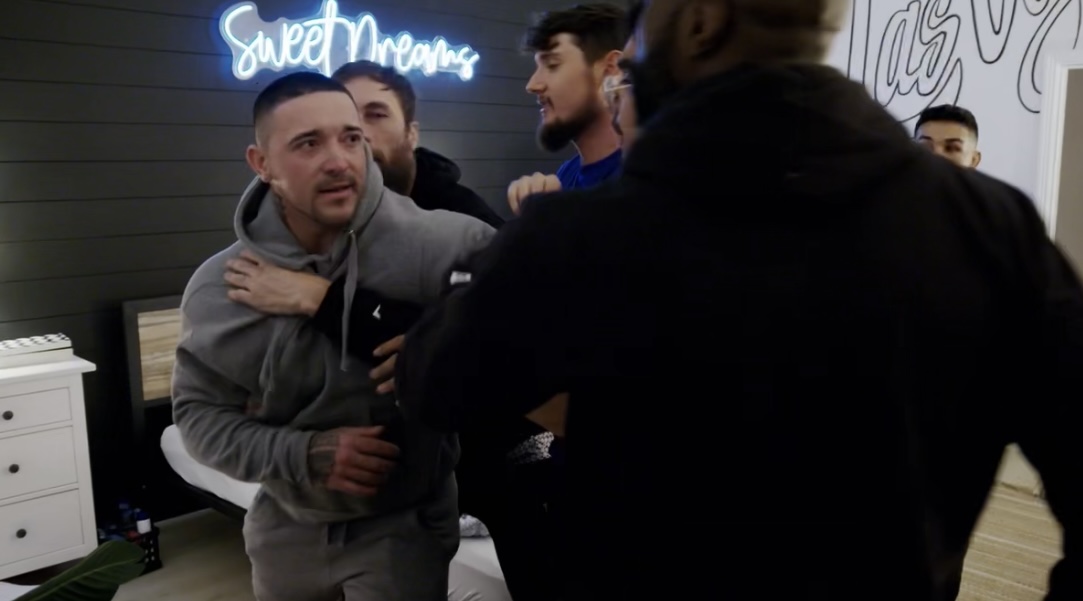 Azael Boozes Too Hard, Clashes with Russel
They say work hard, play hard — but Azael Rodriguez played a little too hard when it came to alcohol.
"El Perro" clearly had too much to drink after moving into the Power Slap house and got into it with Russel Rivero.
"He's an idiot," Russel explained … "He was telling me, 'Oh you can't knock me out' and all this."
After a while, things finally came to a head between the two — with several members of the house trying to hold Russel back from physically going after Azael.
"He's a nice guy when he's sober. But when he drinks too much, whoa!" Russel said … "Cannot deal with people like that."
Azael eventually passed out before things escalated.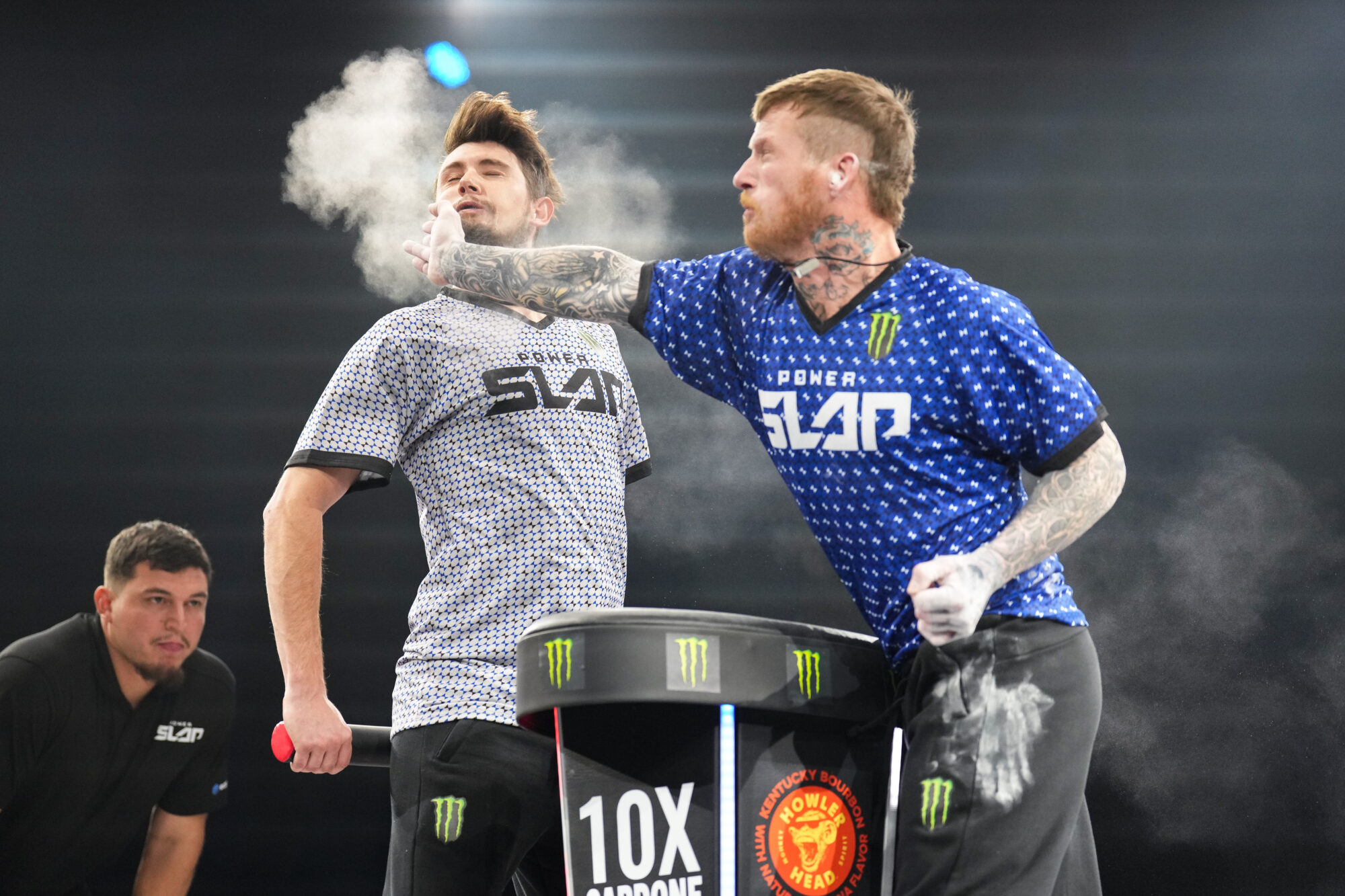 Chris Thomas vs. Waylon Frost
Get ready for fireworks!!
"K.O. Chris" Thomas vs. Waylon Frost — two hard-hitting welterweights who could end a match with one shot.
Before the action begins, Thomas opens up about his family — revealing he's dealing with anxiety from being away from his children.
"I got 5 sons and without them I just feel empty. I miss the s*** out of them."
As for Frost, the Arizona native explains how he was drawn to combat sports to grow as a man and create more meaningful life experiences for himself.
Both men are locked in and ready for battle.
Chris wins the coin toss and elects to strike first. He opens Round 1 with a big shot that sends Frost stumbling back. Frost is clearly rocked but manages to recover and returns to the Power Slap table to take his turn. He fires back with a solid slap but Chris is mostly unaffected.
And then … BOOM GOES THE DYNAMITE!
Chris opens Round 2 with a devastating blast that sends Frost crumbling to the ground. Fight's over. Chris Thomas wins by KO.
"I knew I was going to win today by knockout," Thomas said after the match … "I needed that little slap he gave me to wake me up."
Thomas has established himself as the top welterweight in the house and sends a message to the rest of the division — "I'm gonna eat you all alive!!"
Dana White is also impressed saying Thomas is a "Power Slap star in the making."
Can't wait for next week!!
Catch an all new episode of Power Slap: Road to the Title every Wednesday on TBS at 10pm et/pt.