Power Slap 4: Hintz vs Turpin Results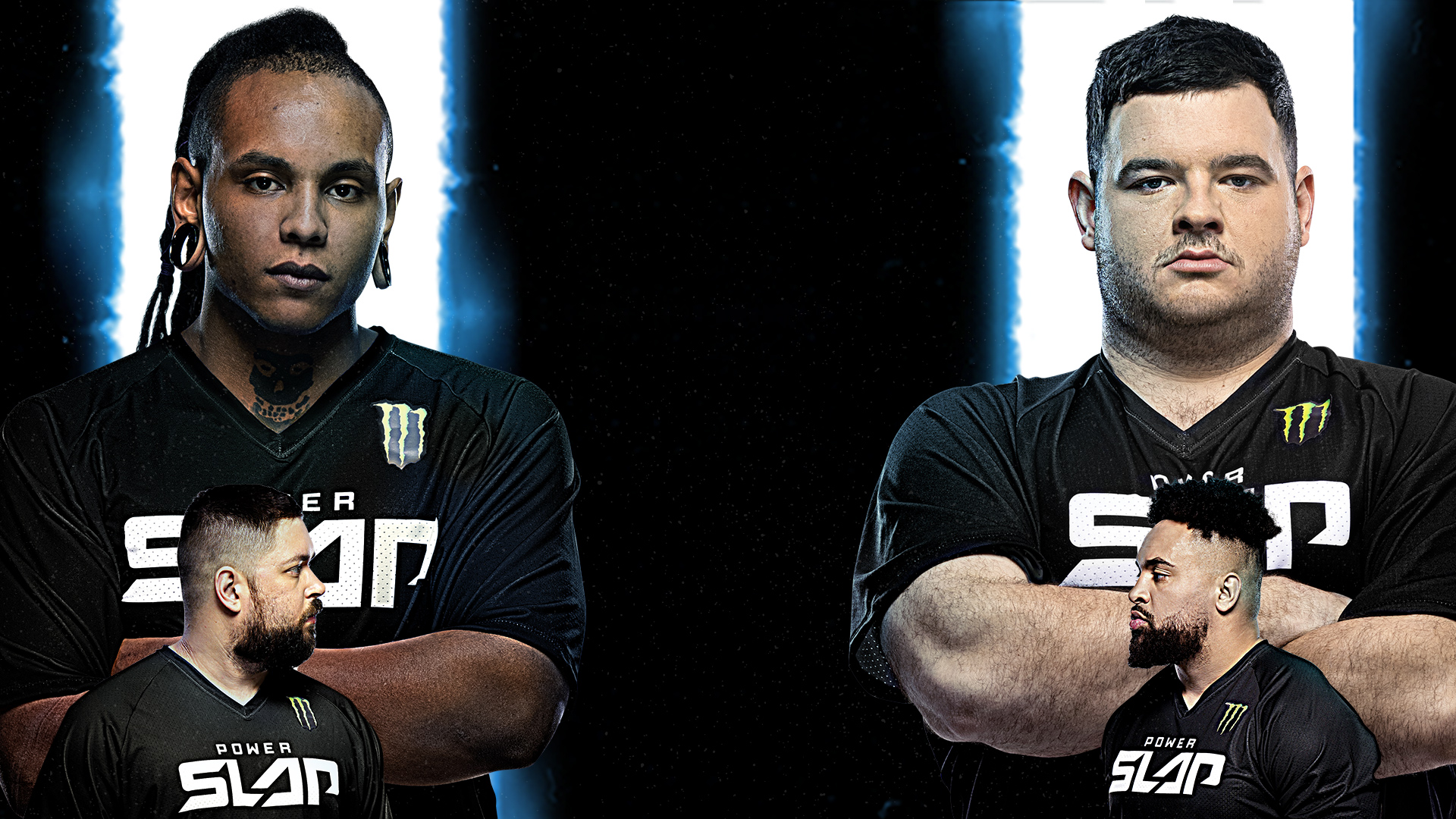 Austin "Turp Daddy Slim" Turpin put on an absolute show yet again.
Turpin knocked out former Power Slap light heavyweight champion AyJay Hintz cold in the main event of Power Slap 4 and made his undeniable case for a shot at light heavyweight champ Ron "Wolverine" Bata.
Here's a recap of all the action and strikers that earned performances at the UFC APEX.
Power Slap 4 Prelim Results
Robert Trujillo defeats Paul Teague by TKO (injury) in Round 1

Paul Teague won the coin toss and went with his right hand on two. All that did was fire up Robert Trujillo who took the strike with a grin on his face. But that's not where the bad news stopped for Teague. He appeared to have injured his hand or wrist on the strike and he was forced to call the match. That's all she wrote for the first prelim on Power Slap 4.
That makes it three in a row for Trujillo and puts him in a good spot for some top tier competition at lightweight.
Kalani Vakameilalo defeats Cody Vallo by Knockout in Round 1

Welcome to the big show Kalani "Toko" Vakameilalo!
The super heavyweight newcomer and former NFL defensive lineman won the coin toss and knocked out opponent Cody Vallo with the first strike. It was clear from the moment he made contact that Vakameilalo has unreal power and it'll very interesting to see how he matches up against other super heavyweights who are already established.
Wesley Drain defeats Amir Nuriddeen by TKO in Round 1

The last time we saw Wesley "All The Smoke" Drain he went toe-to-toe with middleweight John Davis.
He made sure to get right back into the title conversation by taking care of business with Amir Nuriddeen in his first strike. He landed a devastating right-handed strike on two that sent Nuriddeen flying. Although Nuriddeen showed incredible toughness in getting up before the ten-count, the referee determined that "The Comeback Kid" wasn't going to be able to comeback to action.
It was an impressive win and puts Drain right back in the driver seat in the middleweight title race.
Jewel Scott (29-27, 29-27, 29-27) defeats Cole Young by Unanimous Decision

For the first time all night, we made it past the first strike.
Jewel Scott went first, connecting with a clean strike on Cole Young. "Full Send" responded with clean strike that seemed to be lacking in power. Scott shook it off and came back with his best strike of the match, hitting Young clean and with a resounding thud. Young immediately started to smile and congratulated Scott on the successful strike. Young failed to respond with a clean strike of his own, clubbing Scott with a glancing blow and losing a point.
Scott's third and final strike was a beautiful swing that looked almost identical to his second. Young was rushed in his final strike of the match and when he landed on Scott, "Kid Diamond" dropped to the stage floor claiming he was hit in the eye. The judges deemed it was a clean strike and we went to the scorecards.
The judges scored the contest in favor of Scott, who won 29-27 on all the judges' scorecards
Power Slap 4 Main Card Results
Dorian Perez defeats James Stonier by TKO in Round 1

All Dorian Perez needed was one!
Perez hit James Stonier with a power right on the first strike that sent "Sassbilly" to the stage floor. Stonier struggled to get to his feet and he eventually was able to (with Perez celebrating right above him), but the referee had seen enough.
Perez has been one of the most consistent strikers in any division of Power Slap and adding this spectacular win over Stonier puts him right back in the mix for the heavyweight title held by Damien "The Bell" Dibbell.
Da Crazy Hawaiian (30-25, 30-24, 30-24) defeats Kamil Marusarz by Unanimous Decision

Super heavyweights took the stage on the main card, as Da Crazy Hawaiian faced Kamil Marusarz.
Marusarz went first striking Da Crazy Hawaiian but to say he was unimpressed is an understatement. Da Crazy Hawaiian immediately started taunting "Polar Bear" and let him know that he was going to eat everything he slapped him with. Da Crazy Hawaiian responded by stunning Marusarz with his first strike but Marusarz was able to regain his footing and prove that he was fit to continue.
The second round was nearly a repeat of the first, with Marusarz barely striking Da Crazy Hawaiian and with Da Crazy Hawaiian wobbling Marusarz. They both recovered and went on to the third round.
Marusarz had a better slap in the third but Da Crazy Hawaiian was unfazed and made sure to let Marusarz know it. That's when Da Crazy Hawaiian went in for the knockout. He landed flush on Marusarz and sent him to the floor face first, but remarkably he was able to get up and avoid the knockout. What a performance from Da Crazy Hawaiian who made it clear he's a super heavyweight not to be messed with.
Nate Burnard defeats Duane Crespo by TKO in Round 3

NO.1 ranked heavyweight contender Duane Crespo absorbed Nate Burnard's first strike and followed that up with an absolute speeding bullet of a right hand, but Burnard ate it. "The Buffalo Solider" did fall forward a bit after the striking but he was able to keep it together and move right into the second round.
Burnard responded with a wallop of a strike in the second round causing some immediately redness and swelling on the side of Crespo's face. Crespo took his time before his second strike, which couldn't have been cleaner, but yet again Burnard ate the strike.
The back-and-forth battle moved into the third round where Burnard landed his best strike of the match. Crespo was momentarily stunned but he quickly regained his balance. The doctor came into take a look at Crespo and in the end, they decided to waive off the match and give the win to Burnard. This was one of the best Power Slap matches we've seen and it was a great performance from both men.
What a showing for Burnard, who has taken the heavyweight division by storm with his two performances thus far. Tough loss for Crespo who appeared to be OK after the strike. It'll be interesting to see what's next for both of these men, Burnard looking to bring the Power Slap belt home to Buffalo.
Austin Turpin defeats AyJay Hintz by Knockout in Round 3

The Power Slap 4 main event delivered a highlight reel for the ages.
Things started off with some heat, as former champion AyJay Hintz taunted Austin Turpin before his first strike. He told Turpin to open his eyes. Turpin ate the strike and then got super hyped in his corner before stepping up to the strikers podium for his strike.
Turpin shook it out before striking on three and dropping Hintz to the stage. Turpin never stopped talking, even when the judges determined that Turpin clubbed on the strike. The judges took a point but Turpin wasn't discouraged at all.
Hintz took his time to recover before stepping into the box and delivering his second strike. Unfortunately for Hintz he committed a clubbing foul of his own. Turpin wasted no time, calling Hintz back to the podium in just seconds for his strike. Just like Hintz and just like his first strike, Turpin clubbed again and lost a point for the second round in a row. The strike looked like it had an effect on Hintz.
Hintz's third strike was clean and earned him a scream from Turpin. It was Hintz's best strike of the match, but Turpin was completely unfazed. That's when "Turp Daddy Slim" absolutely turned up the heat and completely knocked  Hintz out. It was a perfect strike and made that knockout sound. "Turp Daddy Slim" just showed up and delivered despite the two clubbing fouls.
What a win for Turpin who has his sights on light heavyweight champion Ron "Wolverine" Bata next.
Power Slap 4 Performance Bonuses
Austin Turpin
Dorian Perez
Wesley Drain
Kalani Vakameilalo
Each striker earned a $10k bonus for their performance.