Power Slap 3: Hintz vs Wolverine Results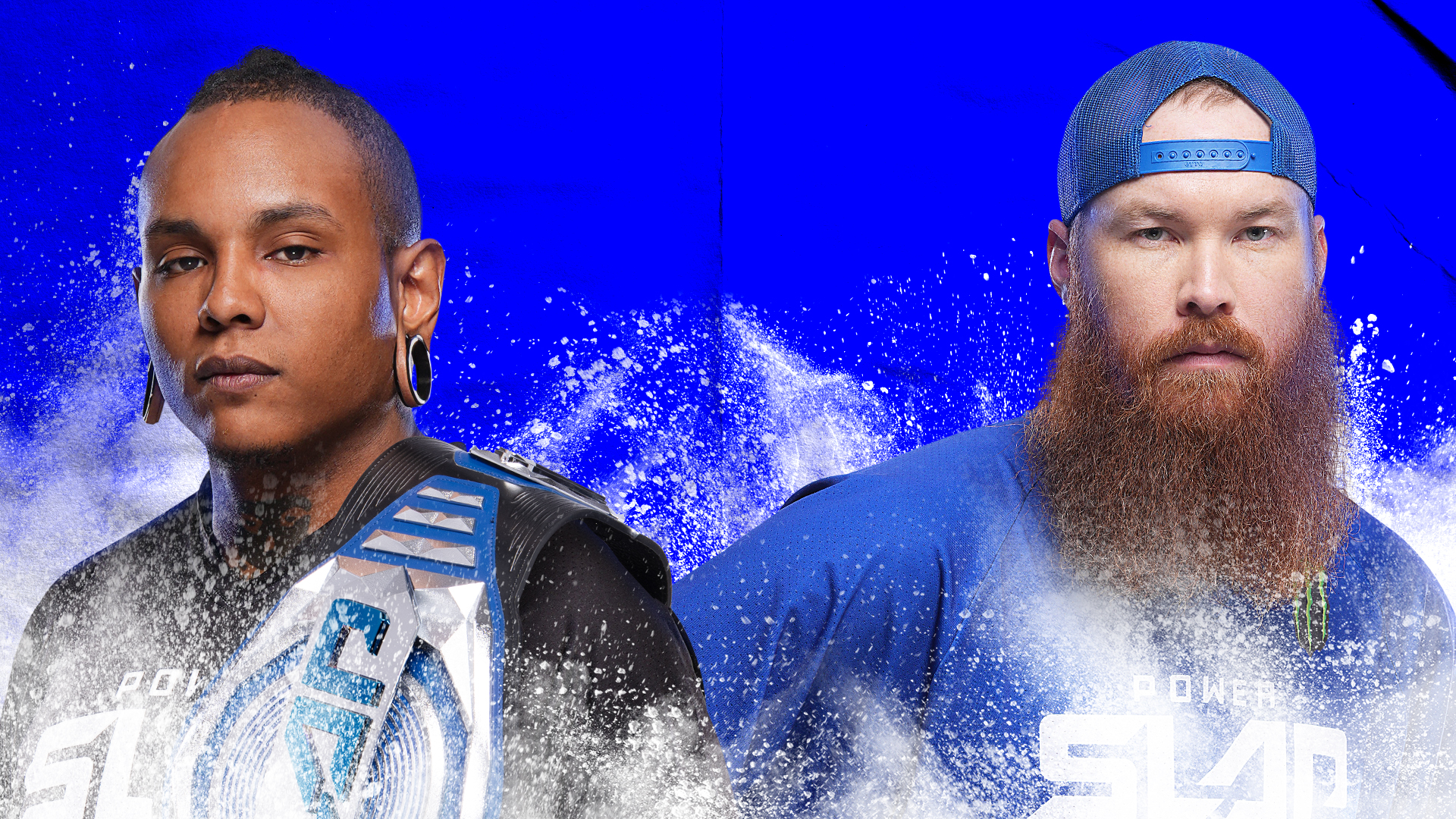 Headlining Power Slap 3 will be a light heavyweight title match between reigning champion Ayjay "Static" Hintz (5-1, 4 KOs, fighting out of Friendship, Wisconsin) and slap fighting pioneer and legend, "Wolverine" (12-4 (1-1 in Power Slap, former PowerSlap Heavyweight Champion), 3 KOs, fighting out of Mountain Home, Arkansas).
Wolverine moves down to Light Heavyweight and makes his third consecutive main event appearance – this time against one of the sport's best pound-for-pound slap fighters, Light Heavyweight Champion Ayjay "Static" Hintz. Hintz looks to defend his title for the second time in Power Slap.
Power Slap 3 Prelim Results
Russel "Kainoa" Rivero defeats Bear Bennett by Knockout in Round 2

Known for his power, No. 4 ranked light heavyweight Russel Rivero won the coin toss and slapped newcomer Bear Bennett.
Rivero's strike dropped Bennett and put him belly down on the canvas. He was able to get up and continue. Unfortunately for Rivero, he committed a stepping foul on the strike and lost a point. Bennett's first strike also resulted in a foul – this time for clubbing.
In the second round Bennett flinched on the Rivero's strike, giving "Kainoa" another strike. That proved to be a major mistake as Rivero unloaded a massive strike that put Bennett out cold. It was a big bounce-back win for the light heavyweight and puts him right back into title contention.
Jewel Scott defeats Andrew Fields by Disqualification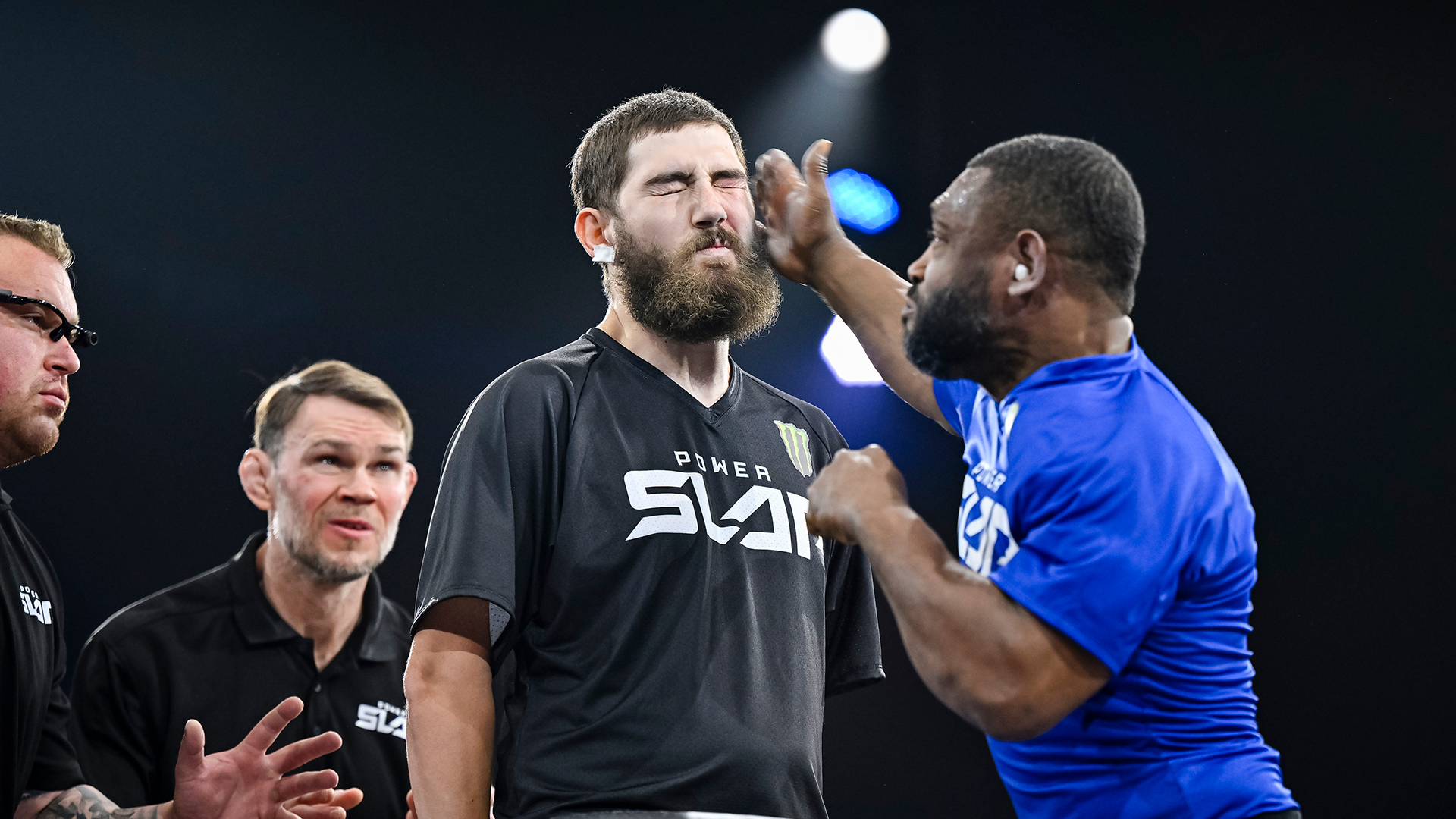 Round 1 was not kind to Andrew Fields. "Casper" stepped on his first strike and then flinched on Jewel Scott's first strike. Fields flinched again on Scott's second attempt in the first round and lost another point. Fields flinched again on Scott's third attempt and was immediately disqualified.
It wasn't the way that Scott drew up getting a win in his move to welterweight, but he'll gladly take the win.
Azael Rodriguez defeats Amir Nuriddeen by TKO in Round 2

Azael Rodriguez continues to show off one of the best chins in the sport.
Rodriguez stood up to Amir Nuriddeen's first round strike and returned fire, stumbling Nuriddeen. In the second round Rodriguez ate Nuriddeen's strike and it was a good one too. It buckled Rodriguez's knees but couldn't drop "El Perro". He came back with a picture perfect slap that not only looked devastating but made a sound like a truck hit Nuriddeen.
It was a great win for Rodriguez, who defended his No. 2 middleweight ranking and looks to get another chance at the middleweight title in the near future.
Emanuel Muniz (29-26, 29-26, 29-26) defeats Cole Young by Unanimous Decision

Welterweights Emanuel Muniz and Cole Young collided in the prelim headliner.
The No. 2 Muniz dealt some heat to Young but "Full Send" ate everything that Muniz had to offer. Young's inability to strike clean cost him the bout though, as the two points that Cole had deducted for clubbing resulted in a win for Muniz.
Power Slap 3 Main Card Results
Duane Crespo (29-26, 29-26, 29-26) defeats Dorian Perez by Unanimous Decision

Heavyweight hitters collided in the main card opener as No. 1 Dorian Perez and No. 2 Duane Crespo stepped into the fray to try and earn a shot a the heavyweight belt.
Crespo got the upper hand in round 1, landing a big strike which Perez followed up with a clubbing foul. In the second round Crespo landed two-strikes on Perez after the No. 1 contender committed a flinching foul. Bloodied and bruised, Perez landed a nice strike on Crespo but he stepped while doing so. That cost Perez another point.
In the final frame Crespo landed a great strike but Perez just ate it. Perez went into the final slap down two rounds and in need of a finish but Crespo's chin held up despite Perez landing his best strike of the match. The unanimous decision win puts Crespo on a short list of names to face current champion Damien Dibbell.
Austin Turpin defeats Alan Klingbeil by TKO in Round 1

Earlier in the week some of the strikers on Power Slap 3 labled Austin Turpin as the rising star of the sport.
He showed why when he knocked out Alan Klingbeil with a single strike. He also displayed his chin when Klingbeil landed a clean shot on him to start the round.
Turpin's loud personality combined with his technical skills are the perfect combo for a superstar. With performances like this a title shot is on the very near horizon for "Turp Daddy Slim".
"Da Crazy Hawaiian" Koa Viernes (30-26, 30-26, 29-27) defeats Micah "Unko" Seiuli by Unanimous Decision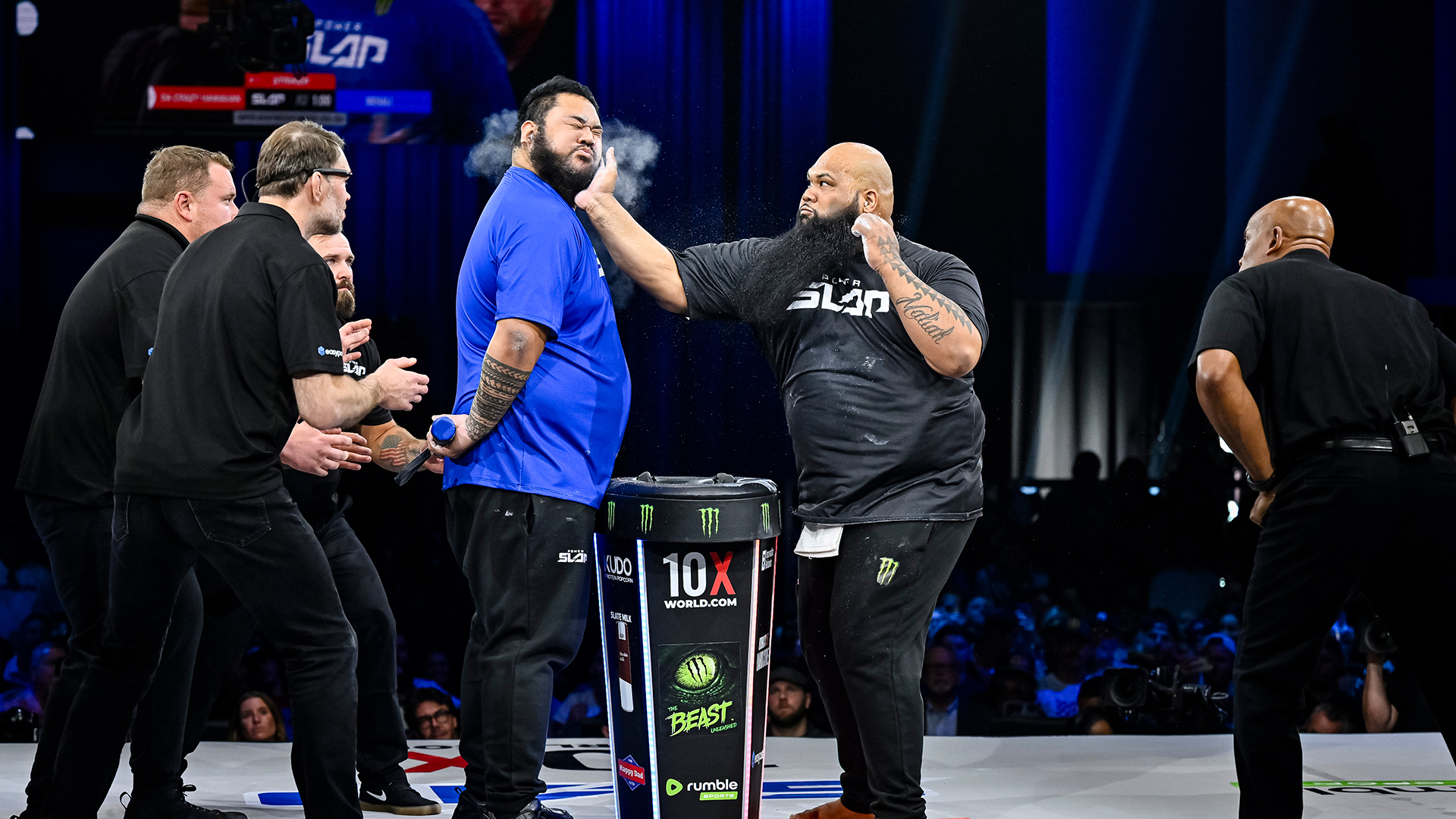 The big boys came out to the stage for the Power Slap 3 co-main event.
"Da Crazy Hawaiian" Koa Viernes made his highly anticipated Power Slap debut in victorious fashion, beating Micah "Unko" Seiuli in a back-and-forth affair. "Da Crazy Hawaiian" had the more effective strikes and more importantly the cleaner strikes in the bout. "Unko" Micah had a costly clubbing foul in the first round and wasn't able to get momentum going.
With new super heavyweights being added to the roster it'll be interesting to see how things play out for both these men. It might not be the last time we see these two compete.
Main Event: Ron "Wolverine" Bata (50-45, 50-45, 49-46) defeats Ayjay Hintz by Unanimous Decision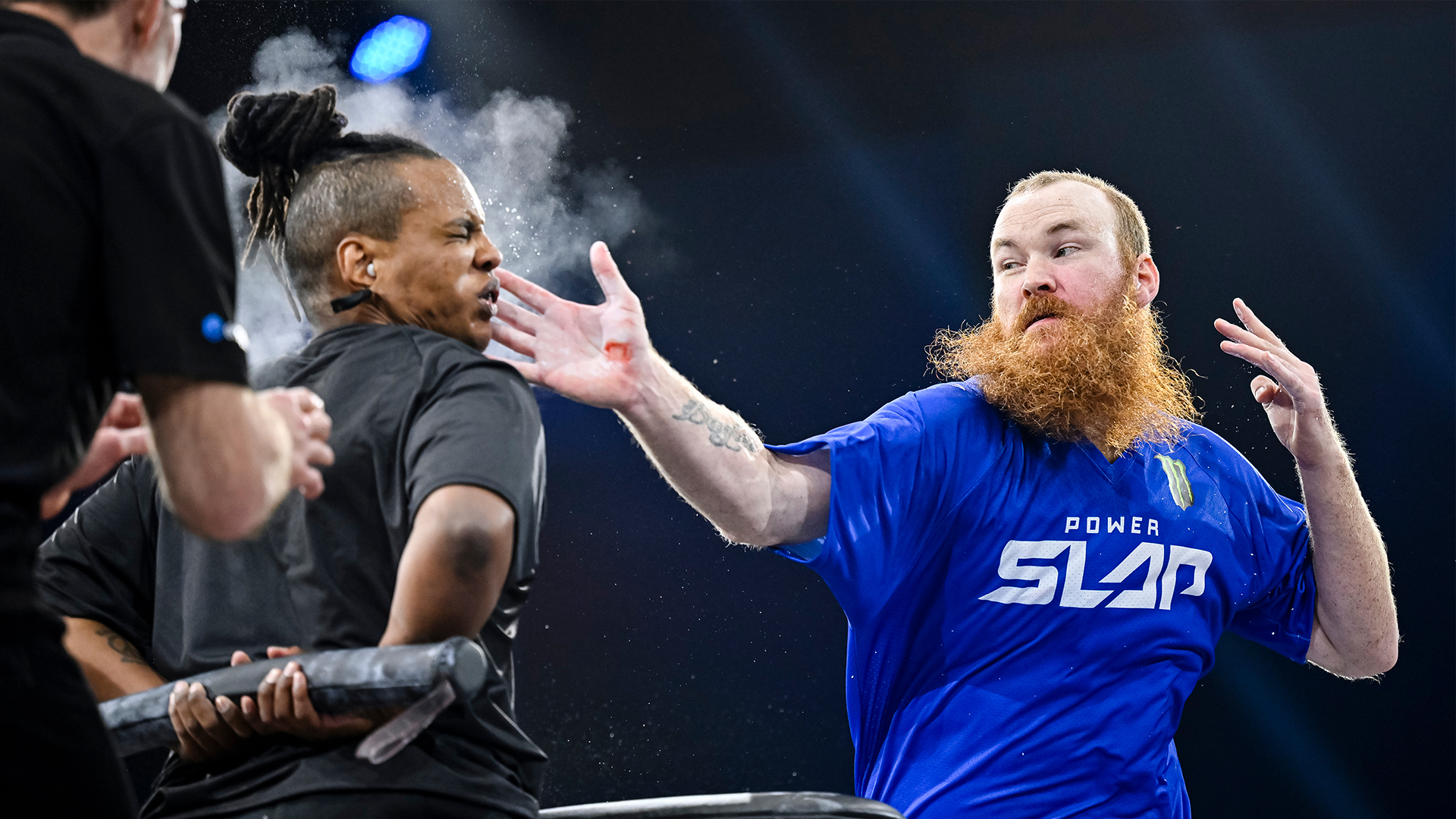 The main event completely held up, as AyJay Hintz and Wolverine traded cleans strikes for all five rounds.
With the light heavyweight strap on the line it was Wolverine who got the better of the exchanges and he was able to claim the light heavyweight title. Each round played out in a similar fashion, with Wolverine landing clean and powerful strikes that caused some significant swelling on the face of "Static".
Hintz fired back but it was clear that his power wasn't enough to take care of business. It was impressive to see Hintz's chin hold up as he never hit the stage floor or appeared to be in deep waters.
With the win Wolverine becomes the first striker to win a championship in two weight classes.