Match By Match Preview | Power Slap 3: Hintz vs Wolverine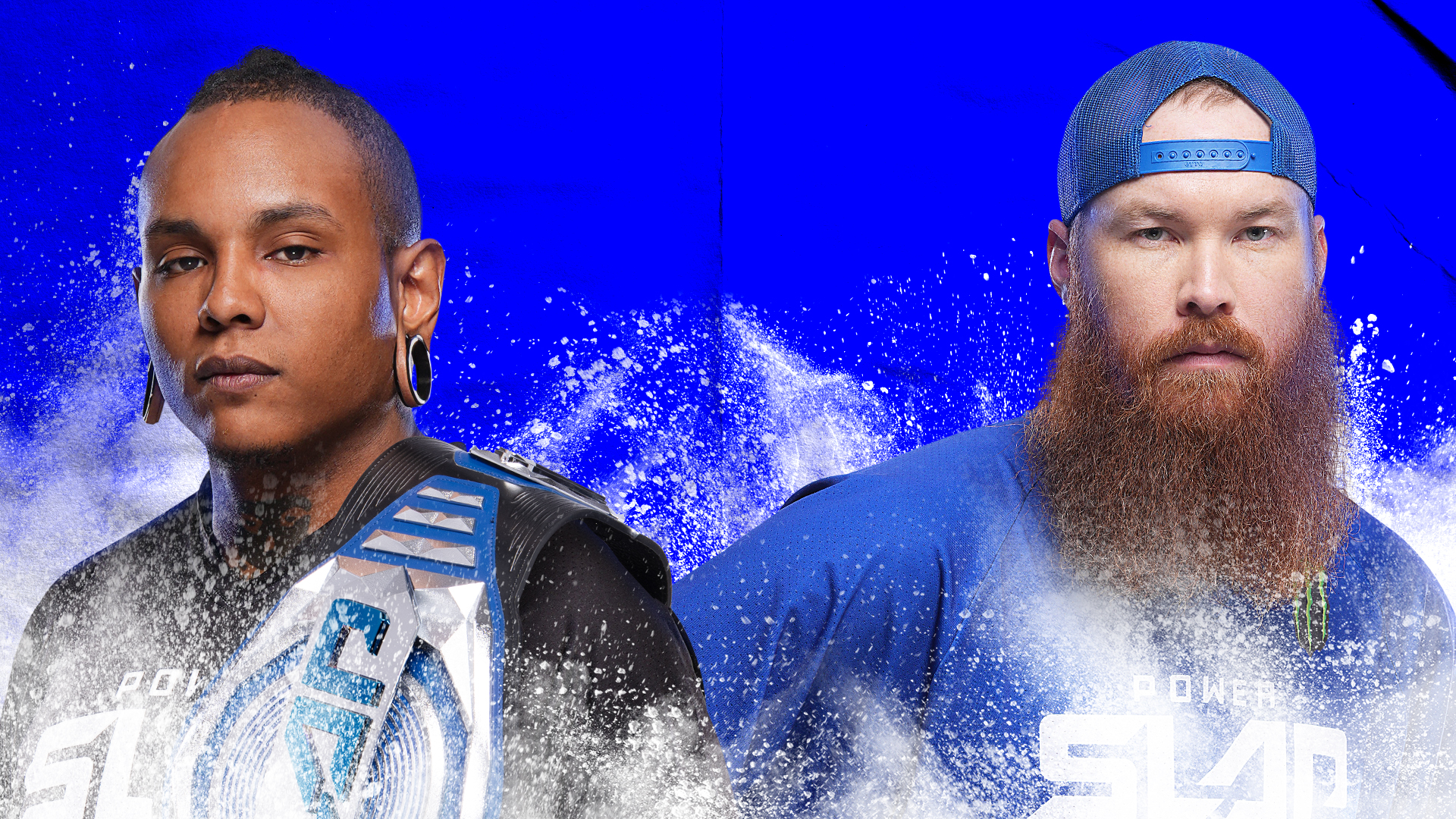 On Friday, July 7, the premier slap fighting promotion in the world will host its third full-scale event, signaling that Power Slap is here to stay.
Power Slap 3: Hintz vs Wolverine goes down from the UFC APEX and will feature a full card of matches that are sure to be electric. The event headliner is a showdown for the light heavyweight title, when AyJay Hintz puts his title on the line versus former heavyweight champion Ron "Wolverine" Bata.
The rest of the card consists of strikers from Power Slap: Road To The Title and rising names from the undercards of Power Slap 1 and Power Slap 2.
With that, let's preview each of the eight matchups that are taking place live and free on Rumble.
Main Event: AyJay Hintz vs Ron "Wolverine" Bata
Co-Main Event: "Da Crazy Hawaiian" Koa Viernes vs Micah "Unko" Seiuli
Location: UFC APEX
Where to Watch: Free On Rumble
Start Time: Live on Rumble at 9pm/6pm ETPT
Other Main Card Matches:
Alan "The Kryptonian" Klingbeil vs Austin "Turp Daddy Slim" Turpin
Dorian "Disturbing the Peace" Perez vs Duane "Iron Giant" Crespo
Prelim Matches 
Emanuel "No Love" Muniz vs Cole "Full Send" Young
Azael "El Perro" Rodriguez vs Amir "The Comeback Kidd" Nuriddeen
Andrew "Casper" Fields vs Jewel "Kidd Diamond" Scott
Russel "Kainoa" Rivero vs Bear Bennett
Main Event: AyJay Hintz vs Wolverine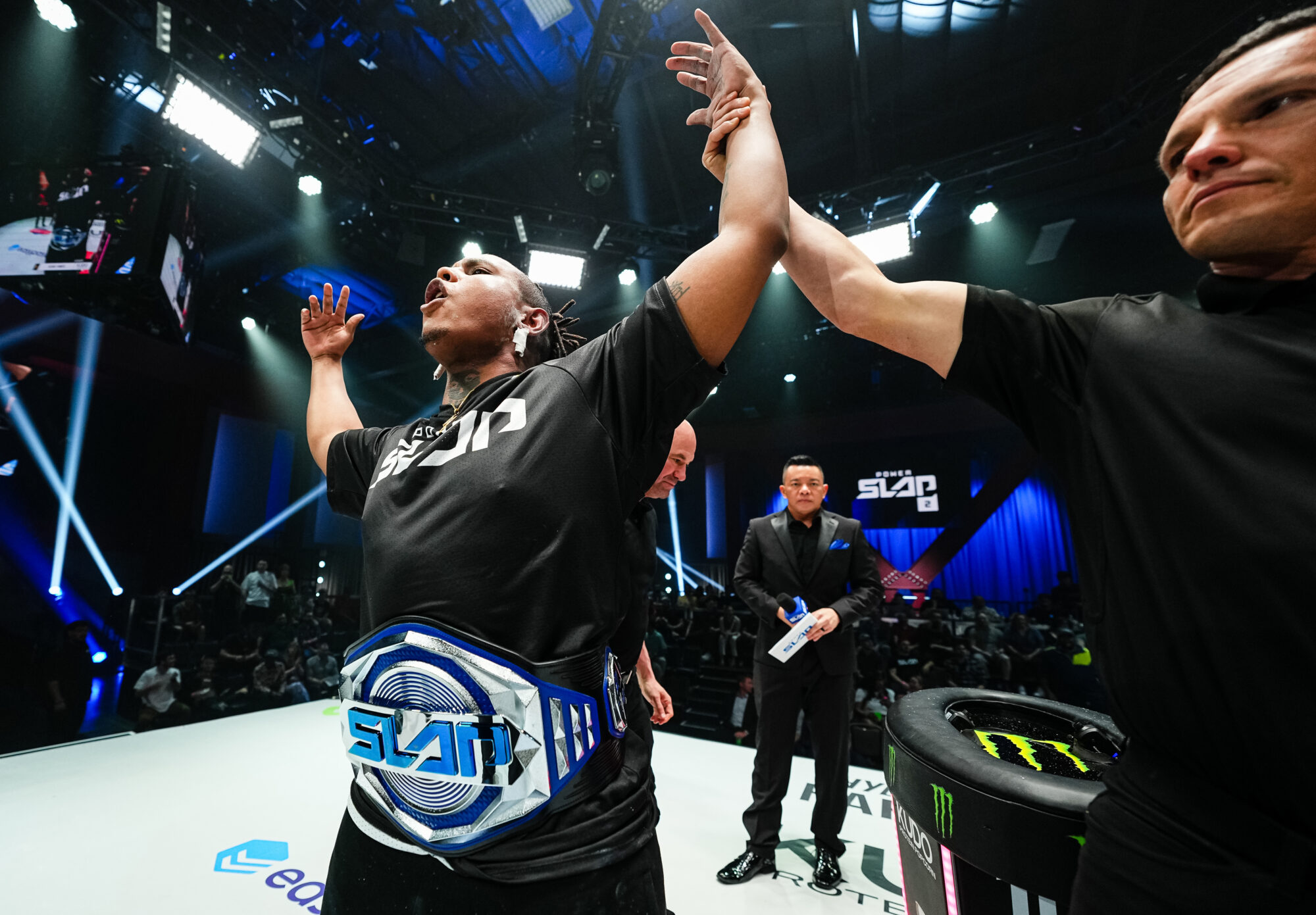 AyJay Hintz has quickly become one of the biggest stars in Power Slap. The light heavyweight champion worked his way to a title shot on Road To The Title, then slapped his way to the belt at Power Slap 1.
At Power Slap 2 he defended his title, winning due to a disqualification of his opponent Russel Rivero. It wasn't the way that Hintz wanted to win, but keeping his title and moving on was his only goal.
That's where Wolverine came into the picture. As one of the head coaches on Road To The Title, the whole world waited to see what Wolverine was going to bring to the table. Wolverine slapped his way to a world title when he knocked out Darius "The Destroyer" Mata-Varona in the main event of Power Slap 1.
At Power Slap 2 he suffered a setback, losing his title to Damien Dibbell. The loss played into Wolverine's decision to move down to light heavyweight and take on Hintz.
It's going to be one heck of match, with two power strikers who can take a slap. Don't miss this one.
Co-Main Event: "Da Crazy Hawaiian" Koa Viernes vs Micah "Unko" Seiuli
Super Heavyweight action is coming your way in the co-main event, as "Da Crazy Hawaiian" and "Unko" are ready to make a splash in their Power Slap debuts.
Koa Viernes is the brother of Dayne Viernes, the super heavyweight striker that knocked out Slap For Cash at Power Slap 2. He looks to follow in his brother's footsteps by taking care of Micah Seiuli this weekend. Seiuli brings 407 pounds of power to the stage and hopes to spoil Viernes' debut.
Alan Klingbeil vs Austin Turpin
There might not be a bigger personality in the sport at the moment than Austin Turpin. Tabbed as a rising star by many of his fellow strikers on Power Slap 3, Turpin is bringing the heat.
The Jacksonville native backs up his antics with true knockout power and he'll see if he can slap his way to a shot at the winner of the main event when he takes on Alan Klingbeil.
Klingbeil made a statement at Power Slap 2 when he beat Vern Cathey by TKO. The win put Klingbeil firmly on the map as one of the next in line to challenge for the light heavyweight belt.
Dorian Perez vs Duane Crespo
Heavyweight contenders at the top of the rankings collide in the main card opener. Dorian Perez and Duane Crespo will compete for the right to face current champ Dibbell for the heavyweight title.
Prelims
Emanuel Muniz vs Cole Young
Emanuel Muniz and Cole Young collide in the prelim headliner as the two welterweight contenders aim to announce their presence as title contenders.
Both Muniz and Young competed at Power Slap 2, but only Muniz left the UFC APEX with a win. He duked it out with Christopher Debow and won a unanimous decision. Young, on the other hand, came into Power Slap 2 with a bunch of hype, but failed to take Anthony Blackburn out.
Young and Blackburn went back-and-forth, and the judges decided to call the match a majority draw.
Winning by KO or TKO is the statement that these welterweights need to make. Who will get it done?
Azael Rodriguez vs Amir Nuriddeen
A familiar face battles a rising star on the prelim card.
Azael Rodriguez made headlines on Road To The Title for all the wrong reasons, but he's ranked No. 2 in the middleweight division for a reason. He's got a chin and he slaps clean. He'll put that to the test against Amir Nuriddeen, who showed out in an un-aired early prelim at Power Slap 2.
Nurideen definitely brings it and it'll be interesting to see what happens with these two once they are chalked up.
Andrew Fields vs Jewel Scott

If you're looking for a highlight, you should take a look at how Andrew Fields beat James Santamaria. One strike and Santamaria couldn't get his body to cooperate as he leaned over the striker's podium. It was a devastating strike.
He brings that one-shot KO power to the table versus Road To The Title favorite Jewel Scott.
Scott comes into Power Slap 3 in need of a win. He is known for his viral KO, but he hasn't been able to recreate that magic since, and if he wants to climb up the welterweight rankings, a win over Fields would be a great way to get back on track.
Russel Rivero vs Bear Bennett

It's no secret that Russel Rivero has terrifying power.
Rivero knocks his opponent out when he connects, but, unfortunately, his technique has forced him to lose bouts by disqualification. At Power Slap 2, he knocked out champion AyJay Hintz in their title bout, but since he committed a foul, he was disqualified. He can't let that happen again.
He'll look to clean up his strikes against newcomer Bear Bennett, who can make a splash by taking out Rivero in his debut.